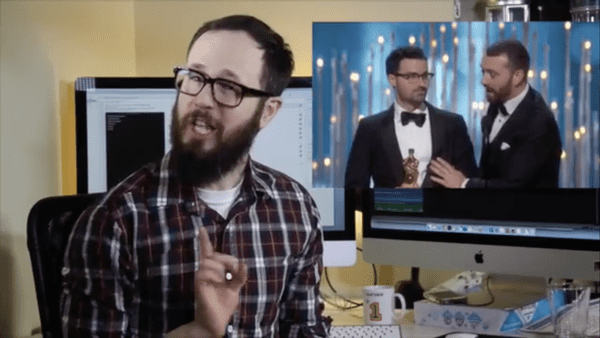 As you may have noticed, Sam Smith's Oscars acceptance speech generated a bit of consternation over the past two days because of a gaffe Smith made about being the first openly gay man to win an Oscar.
When accepting his best original song Oscar on Sunday, Smith referenced an interview that Sir Ian McKellen gave to The Guardian about #OscarsSoWhite and how diversity representation is an issue that affects gay actors as well as black actors. Smith got it wrong though when it came to what McKellen said about gay men and the Oscar. McKellen said that no openly gay man had ever won the acting Oscar, not that no openly gay man had ever won an Oscar full stop. McKellen was one of those who corrected (but also congratulated) Smith after his win.
That gaffe started a back and forth between him and Dustin Lance Black, who called out Smith on Twitter for not knowing that he and other gay men had won Oscars before him. Black later tweeted that he meant his original tweet as a joke. For his part, Smith apologized to Black for not knowing that Black had won an Oscar–perhaps particularly awkward given that Smith is friends with Black's fiancé, Tom Daley.
Now that the dust has settled, YouTuber and insightful commentator Matt Baume has stepped in to give his thoughts on the controversy surrounding Smith's gay gaffe. For Baume, Smith's error was a sign of progress for the LGBT community. "I'm OK that Sam Smith didn't know that. He's a musician not a Jeopardy contestant," Baume says. "And honestly I'm glad that Sam got his facts a little wrong and then corrected himself later. It's a good thing that we've gotten to a point where it's possible to lose count of the number of openly queer people who've won Academy Awards."
Get Baume's take and recap all of the queer people who have won Oscars in the past, below.