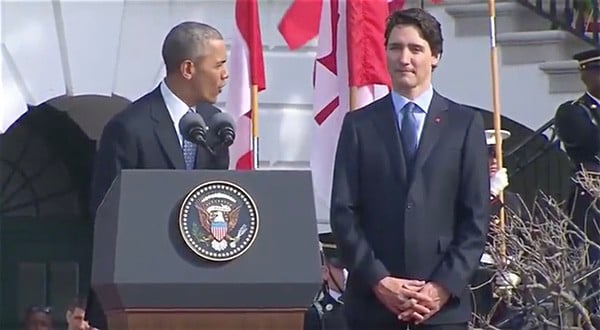 President Obama welcomes "the quite good-looking" Canadian Prime Minister Justin Trudeau to the White House today in the first state visit for Canada in nearly 20 years. In his welcome remarks, Obama hailed marriage equality as one of the benefits shared by both nations:
"I'm proud to be the first American President to stand with a Canadian Prime Minister and be able to say that — in both our nations — health care is not a privilege for a few but is now a right for all.  (Applause.)  And as two vast and vibrant societies, we reaffirm that our diversity is our strength — whether your family was among the first native peoples to live on these lands or refugees we welcomed just yesterday. Whether you pray in a church or a synagogue, or a temple, or a mosque. Where, no matter what province or state you live in, you have the freedom to marry the person that you love."
Added Obama:
Mr. Prime Minister, your election and the first few months in office have brought a new energy and dynamism not only to Canada but to the relationship between our nations. We have a common outlook on the world. And I have to say, I have never seen so many Americans so excited about the visit of a Canadian Prime Minister.
Trudeau replied:
Our great countries have been friends a long time. We grew up together. And like all great enduring friendships, at our best, we bring out the best in one another.  And through it all, our enormous shared accomplishments speak for themselves — prosperous, free, diverse societies that have shaped history together.
Watch the complete speeches: