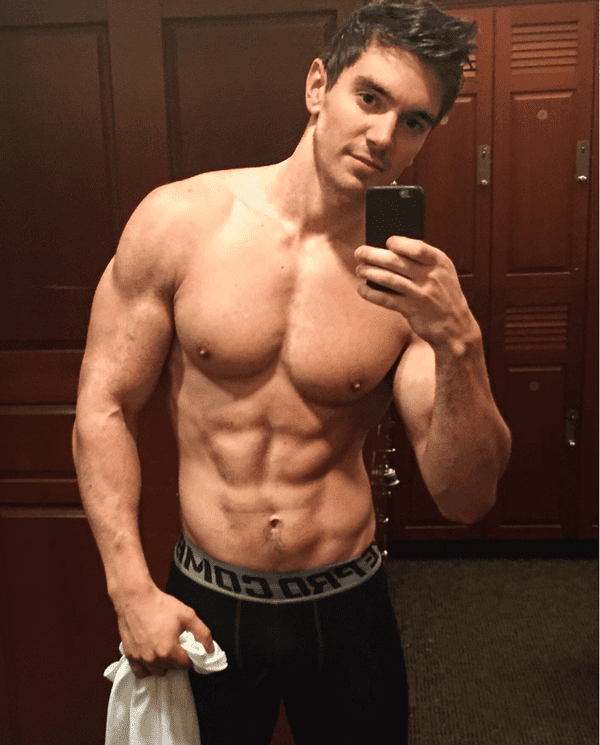 Singer Steve Grand has opened up on his public persona and his music career in a new interview posted on Monday.
Speaking with PrideSource, Grand admits, "I don't like the me that most people probably see," the "weird guy trapped in a douchey gym guy's body."
Grand first rose to popularity with the release of his 2013 album, "All-American Boy." He has also become known for his gym body which he regularly displays on social media. Grand seems to suggest that he has been unfairly targeted for criticism because of his looks. Says Grand,
"I'm not so bad. People have (such) incredibly low expectations of me, that I just need to show up. For my performances, I need to not be terrible and people will be impressed. I just know people have really, really low expectations of me and that's what the Internet does. I'm such an easy person to target. Young, good-looking, white, gay men – we love to hate those people. But there's been a real person there the whole time."
As Grand has continued to face scrutiny for his public persona, which he describes as "messy", he says he has tried to care less about how people will respond to what he does and what he shares. "I had this unreasonable expectation that I was going to be understood by people and it took me a long time to get over that," he says. Speaking on how media and online sites portray him, he adds, "I don't make sense in any kind of headline, so I've kinda given up on that and I'm fine with it."
Specifically addressing what PrideSource calls "the struggle to be taken seriously as a music artist" whilst half-naked images of him circulate online, Grand notes that it used to be "really frustrating." But he has altered expectations these days:
"I don't have that high of expectations for the general public – I mean, we don't even understand things that really actually f*cking matter, like, with this election. So why should I expect people to take the time to understand me? I don't matter. And people don't even care about things that do matter.
I take my music seriously. I'm a good musician and I'm a good performer, and I also like to work out my body and show it off sometimes. It's a fleeting thing; when I'm 50, I'm not gonna look like this.
Everybody has to feel like they have to be a special snowflake. People can't just look at a picture of a hot guy and let it be beautiful. It has to be some statement about them. Let people just f*cking appreciate what is beautiful and let things be beautiful if they're beautiful."
As for whether seeing others' semi-naked selfies ever makes him feel "less than", Grand says "of course" but adds that he tries "to take personal responsibility and not lash out at that person [who posted the selfie] because they maybe make me feel less." He says, "I just f*cking look at the picture and enjoy it…yeah, sometimes I have that envy and that jealousy rises up. I could either leave a really bitter comment about it on the Internet or I could go work on my own sh*t and be the best I can be."
As for how far Grand will go nudity-wise in the future, he says not to expect any full frontal action, unless someone offers him a million dollars. But he doesn't want to get anyone's hopes up:
"I don't think my dick is that exciting. It's just like, whatever. It's pretty unremarkable. I think it's good to be proud of what you have but I think there are more interesting things about me than my relatively… what's the word I'm looking for? It's very appropriately sized and shaped, that's what I would say."
https://instagram.com/p/BBgvwE4M0zw/
As for bloggers writing about that quote and putting it in their headlines (PrideSource suggests: "Steve Grand calls his dick 'unremarkable' and 'appropriately sized'"), Grand remarks only, "That's fine. If it makes people happy."
Concerning his music, Grand doesn't understand the backlash he's received for not continuing down the country music road since All-American Boy. He explains, "I never said I'm country and I never said I'm the first anything; those are all things that people associated with me and it had absolutely zero to do with anything that I said or did myself."
In the coming months, Grand says he hopes to create another full-length album that will be a departure from what he did on All-American Boy. "It's gonna be a little more gritty," Grand says.