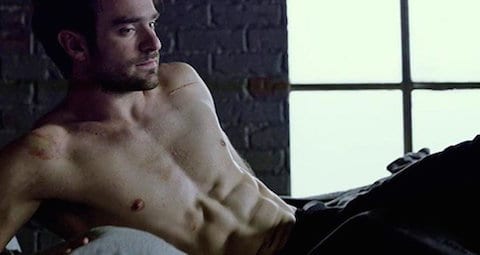 Check out our weekly guide to TV this week, and make sure you're catching the big premieres, crucial episodes and the stuff you won't admit you watch when no one's looking.
— This stellar season of RuPaul's Drag Race continues tonight at 9 p.m. Eastern on Logo with a Pitch Perfect-inspired group challenge that pushes some of the queens outside their comfort zone. Get to know our current crop of queens in last week's recap.
— Kenny's got a lot to contend with when he returns to school after his big coming out on ABC's The Real O'Neals Tuesday at 8:30 p.m. Eastern. The next episode, "The Real F Word," chronicles what happens when the young gay teen continues to complicate his situation using a particular "F word" at school.
— MTV's superb LGBT-friendly dramedies Awkward and Faking It return at 10 p.m. and 10:30 p.m. Eastern, respectively Tuesday.
— You don't need super senses to appreciate the abs on Charlie Cox, the lead of Marvel's Daredevil. The superhero drama is back for a second season Friday on Netflix, including newcomers Jon Bernthal (The Walking Dead) as Punisher and Elodie Yung as Elektra.
— Comedians Paul Rust and Paul Reubens are bringing Pee-wee back to the small-screen along with producer Judd Apatow. Pack your bags for Pee-wee's Big Holiday dropping Friday on Netflix, also starring Tara Buck, Alia Shawkat and Joe Manganiello.
What are you watching this week on TV?