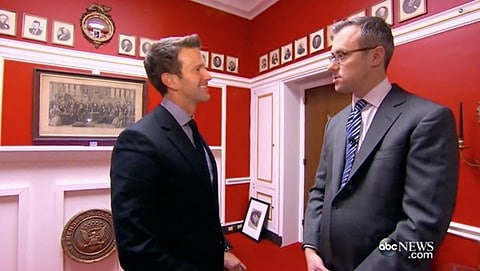 U.S. District Court Judge Sue Myerscough has ordered records pertaining to an investigation of former Rep. Aaron Schock (R-IL) by federal prosecutors sealed at the request of Schock's attorneys.
"[R]ecords, orders, and subpoenas relating to grand jury proceedings must be kept under seal to the extent and as long as necessary to prevent the unauthorized disclosure of a matter occurring before a grand jury,'" Myerscough wrote. "The Court finds the documents filed since February 2016 must remain under seal at this time to prevent the unauthorized disclosure of a matter occurring before the Grand Jury. In the event that this Grand Jury matter results in a public 'judicial proceeding,' the media is not precluded from renewing its request at a later date for disclosure of grand jury information pursuant to the Court's discretion."
Lawyers for Schock told the judge Monday that unsealing the records could damage the former congressman's reputation.
"We oppose Politico's request to disclose the Sealed Documents because the U.S. Attorney has made certain untoward and unsubstantiated allegations of Mr. Schock's conduct and character within these documents that would be highly prejudicial to Mr. Schock if unsealed," Schock's attorneys wrote. They also said references to Schock's staffers should be removed from the records, if they were to be released.
Myerscough has also convened at least three closed-door hearings amid a flurry of grand jury subpoenas (at least 17) and nearly two dozen secret filings, Politico adds.
Why all the secrecy is necessary is an unknown at this point.
Schock has been under investigation for alleged misuse of government and campaign funds to pay for his lavish lifestyle since a February 2015 ABC News report on Schock's Downton Abbey-inspired office, which was initially provided as a gift from an interior designer.