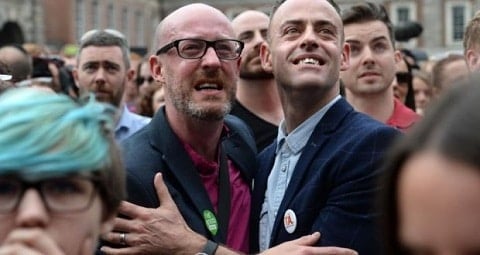 A year after Ireland became the first country to legalize same-sex marriage, the country celebrated its momentous first anniversary of marriage equality over the weekend.
64% voted in favor of same sex marriage in last year's referendum.
Same-sex marriage: 'My God, this is what feeling equal feels like'#MarRefMemorieshttps://t.co/3LB1GVs6FD pic.twitter.com/knNx66hqYe

— Áine McMahon (@AineMcMahon) May 23, 2016
Yes campaigner Rory O'Neill / Panti Bliss said the public vote has changed Ireland more than had been anticipated. "I think," said O'Neill, "because we did it by referendum it is a much more powerful way of doing it and I think that immediately after the referendum the gay community here felt much more secure in their place in Irish society."
This day last year was one of such tears and joy. I felt so proud of my country and so happy to be me. At last. #marrefmemories

— Barry Brett-McStay (@bazmcstay) May 23, 2016
There have been 412 same-sex couples married in Ireland since the passing of the referendum on May 23 last.
https://twitter.com/david75donovan/status/734704192372264960
Even the hardest of hearts will be torn by the thousands of #marrefmemories posted on Twitter.
I have two sons
I love them both equally
One can marry & one cannot…https://t.co/2HIjlNwpjE#marrefmemories pic.twitter.com/NHzGRod7UK

— Dr Sabina Brennan (@Sabina_Brennan) May 23, 2016
https://twitter.com/evanmurphycork/status/734703390148677632
We're marking the anniversary of #MarRef & sending solidarity to @NUS_USI #LoveEqualityNI #marrefmemories #IPropose pic.twitter.com/Rru9jZNWnr

— Union of Students in Ireland (@TheUSI) May 23, 2016
Attempts to hijack the hashtag – notably by gay man No campaigner Keith Mills and Paddy Manning – were mostly ignored.
Government putting leading phrase "Marriage Equality" on ballot when Referendum Commission refused #marrefmemories pic.twitter.com/QpRV2HibQa

— Keith Mills (@KeithMillsD7) May 22, 2016
(Image via Twitter)
State broadcaster RTE will tonight premiere documentary The Story of Yes. Watch a trailer below.
More #marrefmemories 9pm tomorrow @RTE2 in 'The Story of Yes' Looks really good! https://t.co/SkRj97HDud

— Colm O'Gorman (@Colmogorman) May 22, 2016