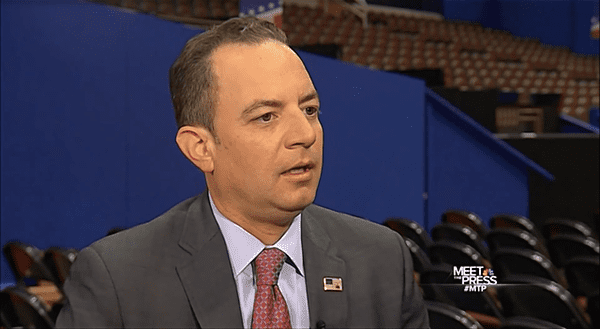 Reince Priebus, the RNC chair, doesn't think the GOP platform endorses ex-gay conversion therapy or demeans the children of same-sex couples, despite incontrovertible evidence that the platform does exactly that.
In an interview with Chuck Todd on Sunday before the RNC mess convention kicked off this week, Priebus bristled when Todd asked if he was comfortable with the fact that the party platform endorses conversion therapy.
"No, it doesn't," Priebus insisted. "That's out – There's an amendment on that issue. It has been taken out. It's not in the final platform."
WATCH: RNC Chair @Reince Priebus denies anti-LGBTQ extent of party's platform #RNCinCLE https://t.co/8fykXoBLbH pic.twitter.com/sAUDEdu0Hz

— Human Rights Campaign (@HRC) July 20, 2016
But that's not exactly true.
While the platform doesn't mention conversion therapy by name, it reads,
"America's healthcare professionals should not be forced to choose between following their faith and practicing their profession…We support the right of parents to determine the proper medical treatment and therapy for their minor children."
While not the full-throated endorsement of conversion therapy that hate group leader Tony Perkins may have wanted, that language does mean that the GOP believes parents should have the right to subject their children to conversion therapy (aka torture).
Though the original amendment proposed by Perkins mentioned explicit support for "conversion therapy", the platform's new language (which was passed on Monday) is nothing more than misdirection. As HRC notes, "The fact that Tony Perkins and his allies didn't raise a ruckus when the language was tweaked tells you all you need to know."
Todd also asked Priebus about language in the platform that suggests children of same-sex couples are more likely to be drug addicts and criminals than children of heterosexual couples.
Priebus again attempted to deny the anti-LGBT nature of the platform, saying, "It doesn't mean that."
Here's what the platform actually says:
"Children raised in a two-parent household tend to be physically and emotionally healthier, more likely to do well in school, less likely to use drugs and alcohol, engage in crime or become pregnant outside of marriage."
"The data and the facts lead to an inescapable conclusion: Every child deserves a married mom and dad."
It's hard not to read that language and come away with a sense that the RNC chose to explicitly denigrate the children of same-sex parents as well as same-sex parents themselves as somehow being dangerous to their own children.
Priebus says the point of the language is only to stress the RNC's support for "traditional values" and what the "best" type of an American family is.
You be the judge.
Watch, below.
https://youtu.be/bv5CRQrGxXQ?t=6m39s