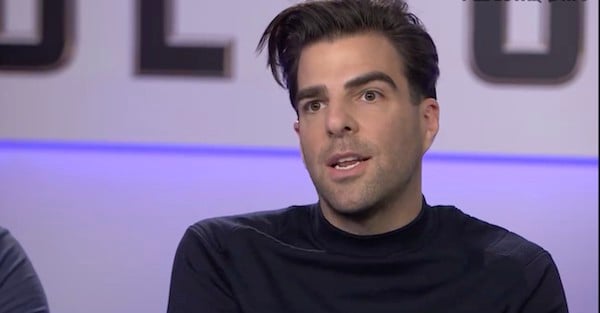 Out Star Trek Beyond actor Zachary Quinto, who portrays Spock in the reboot of the classic sci-fi franchise, said that as a member of the LGBT community, he's "disappointed" by George Takei's response to the fact that the character of Mr. Sulu has been revealed to be gay.
After news emerged yesterday of the character's development in that direction, George Takei, who played Mr. Sulu in the original series, called it a "really unfortunate" turn of events.
Takei told The Hollywood Reporter that he had tried to convince Pegg and director Justin Lin that it was a bad idea.
"I told him, 'Be imaginative and create a character who has a history of being gay, rather than Sulu, who had been straight all this time, suddenly being revealed as being closeted," said Takei.
Said Quinto:
"I was disappointed by the fact that George was disappointed. Any member of the LGBT community that takes issue with the normalized and positive portrayal of members of our community in Hollywood and in mainstream blockbuster cinema…I get it that he has had his own personal journey and has his own personal relationship with this character but, you know, as we established in the first 'Star Trek' film in 2009, we've created an alternate universe, and my hope is that eventually George can be strengthened by the enormously positive response from especially young people who are heartened by and inspired by this really tasteful and beautiful portrayal of something that I think is gaining acceptance and inclusion in our societies across the world, and should be."
Quinto's remarks echo those of screenwriter Simon Pegg (who also plays Scotty in the reboot), who said he "respectfully disagrees" with Takei.
Watch:
https://www.facebook.com/pedestriandottv/videos/10154335111092417/