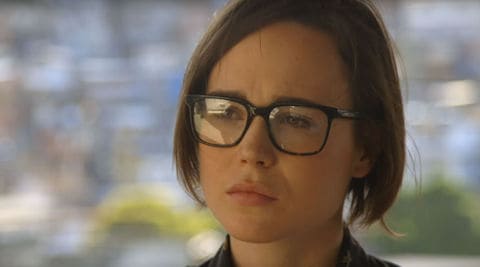 There's always been a large debate around LGBT celebrities' responsibility to be an out and proud advocate of the community, and few young actors know that struggle more than Ellen Page. Before coming out, her sexuality was fodder for rampant tabloid speculation, but since speaking publicly about being a lesbian, Page has been the face of several projects focused on LGBT people.
"There was a time when I thought it would be impossible to be out," she said at a Human Rights Campaign gala in 2015. "I acutely remember the pain I was in before I was out. And I have been able to experience a lot of things for the first time in the last year and a half. Having my arms wrapped around my girlfriend Samantha while we walk down the street. Holding her hand on the red carpet. Kissing her in the ocean while we surf…and getting to say, in public, I am in love. But living an authentic life should not be something we feel we must fight for."
She's been a superhero (X-Men's Kitty Pryde), an action star (Inception) and the snarky voice of the millennial generation (Juno), but perhaps the work that's left the biggest impact is Page's docuseries Gaycation where she's explored LGBT culture and issues around the globe.
Revisit some of the Canadian actress' work in a few of our favorite clips, below.
Page first attracted acclaim in the thriller Hard Candy in which she portrays a young vigilante exacting revenge on a pedophile. Page gave a chilling performance, but it wasn't until the 2007 film Juno that Page received widespread critical and mainstream praise. As the film's wise-cracking titular protagonist, Page earned an Academy Award nomination for Best Actress.
As Page's profile became more prominent, questions about her sexuality swirled. The lesbian rumors reached such a fevered pitch, Page indirectly responded in an SNL sketch when she hosted in 2008. She came out officially in 2014 at an event for the Human Rights Campaign. "I am here today because I am gay… and because maybe I can make a difference to help others have an easier and more hopeful time," she said in her speech. "Regardless for me I feel a personal obligation and a personal responsibility. I also do it selfishly because I'm tired of hiding and I'm tired of lying by omission. I suffered for years because I was scared to be out. My spirit suffered, my mental health suffered, and my relationship suffered. And I'm standing here today with all of you on the other side of that pain."
https://www.youtube.com/watch?v=LmBoq-RCd40
Last year, Page starred opposite gay icon Julianna Moore in Freeheld. The film tells the true-life story of police officer Laurel Hester as she tries to leave her pension benefits to her partner Stacie Andree after finding out she has terminal cancer. "It's hard to say this, because the context of the film is so deeply tragic, but for me there was a deep sense of peace on set that I had not felt in a really long time, potentially since I was a teenager and first having these really beautiful, fortunate moments in films," Page told TIME Magazine in an interview. "There was something about being out, getting to play a gay character, and getting to play a woman who is so inspiring to me—it was such an amazing experience for me. Honestly, if I played gay characters for the rest of my career, I'd be thrilled. I wish I could, honestly!"
Earlier this year Page premiered a new reality series called Gaycation on new TV network VICELAND. Along with Ian Daniel, Page toured the globe exploring LGBT culture and issues in other countries. Before the series even premiered, Page made headlines for confronting then Presidential hopeful Ted Cruz at the Iowa State Fair. However, the most chilling moment in the series' first season occurred when Page confronted a self-confessed murderer who took pride in killing gay people in Brazil. Despite the danger, Page revealed her sexuality to him on camera, and you could feel the tension. "I think it's hard to read on camera, but he went from pretty much looking at us, or looking at us from above those sunglasses, to not even looking at our faces after that," she told The Daily Beast. "There was definitely a shift in that moment. That was definitely the moment where you're like, OK, what did I just do?"
Next week, VICELAND will air a special episode of Gaycation focusing on the survivors of the Pulse Nightclub attack. The second season will begin to air officially in September.
What's your favorite Ellen Page project?