A new Australian multimedia project is aiming to investigate whether as many as 88 deaths in Sydney from the 1970s onward, including 30 unsolved cases, were gay hate crimes.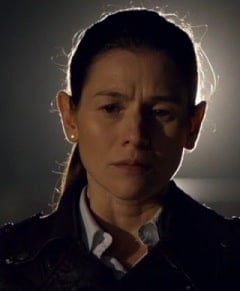 Deep Water project will include a documentary, a podcast, an online interactive hub and a four-part fictional drama starring Orange is the New Black's Yael Stone (right).
Among the 30 unsolved murders, the project examines the case of US-born Scott Johnson who was found dead in 1998 near a well known cruising area in Sydney. Johnson's death was ruled a suicide the following year. However, in 2012 the New South Wales deputy state coroner overturned the suicide finding. She could not determine how Johnson died.
Deep Water producer Darren Dale says he was inspired following the unsolved murder of Ahmed Ghoniem in 2012 and the rape and murder of Irish woman Jill Meagher in the same year. Meagher's killer was apprehended and imprisoned.
Although the two murders were unrelated, Dale told the Guardian Australia:
"[Meagher's] death galvanised people, everyone was talking about it – as it should be, there was a real threat to women – and television broke into schedules to report it.
"I live in Potts Point [in Sydney], and I thought, if there is someone attacking and murdering gay men – more gay people living there than I suspect anywhere else in Australia – then how come it's not in any of the papers, it's not been in the news?"
Speaking about the four part Deep Water drama, which will air before the documentary, Yael Stone said:
"The story is inspired by events but the producers are wanting to be very sensitive because these are deeply traumatic things that have happened to people and their families. They've really steered clear of basing characters on real people.
"[The documentary] is going to be quite confronting and moving, from the sounds of it. It's such an interesting package. For [network] SBS to be so supportive of making this wonderful drama, and pairing it with real-life stories, it will add such a richness to the way this content is interpreted by the public."
Later this year a third inquest funded by Scott Johnson's brother Steve will look at 50 to 60 "persons of interest." Steve Johnson believes that "inherent biases play a role in both the minimal media coverage of these stories and in the public and police response to violent crimes against gay people."
Coming soon to @SBS, #DeepWater: The Real Story, part of a network event unearths gripping true Aus crime story https://t.co/KYFMWS5B8Z

— Michael Ebeid AM (@michaelebeid) September 27, 2016
"I'm unsure what role homophobia played in the 1980s," he said, "but it certainly seemed that the police systematically avoided investigating the deaths of gay men, or men presumed to be gay."
The Deep Water drama will premiere on Wednesday, October 5th. Deep Water – The Real Story will air on Sunday, October 16th.
Watch a preview for the 4-part drama series below.