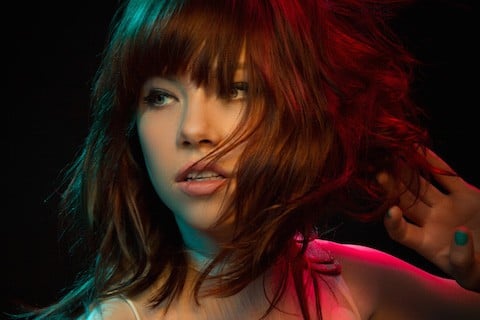 Even among the most beloved pop stars in modern memory, few have been embraced as quickly or fervently as Canadian bubblegum-pop princess Carly Rae Jepsen. A brief four-year stint in the public eye and only 2.5 (excellent) albums is typically tough to qualify as iconic, but there is a unique devotion Jepsen has inspired in her gay fans.
Part of the appeal lies in her perfectly-crafted earworms, unabashedly bathed in joy and unconcerned with the EDM and hip-hop stylings permeating the pop landscape. It's pop music at its purest, and it is irresistible. The cost of eschewing a lot of what's driving popular music today has also made Jepsen something of an underdog across the pop landscape — an attribute that only endears her more to her gay fans. (One of our favorite examples is the gay guy who got tackled off his bicycle for accidentally riding into Pres. Obama's motorcade on his way to a hookup while blasting "Call Me Maybe" in his headphones.)
And the feeling is mutual. Jepsen's been an stalwart supporter of the LGBTQ community since appearing on the scene. She's been vocal on social media, performed at Pride celebrations and even canceled a 2013 performance with the Boy Scouts of America, tweeting "As an artist who believes in equality for all people, I will not be participating in the Boy Scouts of America Jamboree this summer."
"In Canada, I had tons of friends who I grew up with who are gay or lesbian," she told PrideSource in a 2015 interview. "I had one friend in particular, and I saw just how hard it was for him when his family found out he was gay – they shunned him, actually. He thought he was gonna have to make it on his own and move out – it was heartbreaking for all of us. We didn't really understand it, and that's probably when I began to really get angry about the pain that was caused for what I thought was no reason. Moving to the U.S. and seeing how big of an issue it is made me want to help and bring awareness to the subject."
Surrender yourself to CRJ's pop perfection with a few of our favorite clips below.
Before she topped the charts with "Call Me Maybe," Carly Rae Jepsen was a top-three finalist on Canadian Idol. She wowed the judges with an audition of an original song, and she competed with performances of "Torn," "Come to My Window" and Queen's "Killer Queen."
Of course, you can't talk about CRJ without talking about her worldwide smash "Call Me Maybe." The infectious tune that launched 1,000 lip dubs was propelled into the collective consciousness when Justin Bieber tweeted about it to his millions of rabid social media followers. The ensuing buzz rocketed the track to the top of the charts. The song's video included a cheeky twist wherein the object of Jepsen's innocent crush turns out to be gay, seeding an early relationship with her gay fans. "When we shot the 'Call Me Maybe' video, we weren't even thinking the ending was not normal," she told TIME Magazine during the peak "Call Me Maybe" mania in 2012. "I have so many gay friends that I love. It's a regular thing. And if my video is encouraging that mind frame with other children and other people — well, it's about time, I guess!"
Although the full-length album rushed out to capitalize on the success of "Call Me Maybe," Kiss was full of stellar tracks that further proved her pop mastery, yet it struggled commercially. Jepsen took time away from the pop music machine for a stint on Broadway playing the titular Cinderella opposite Fran Drescher. She described the experience to Elle Canada: "Being around people who not only didn't care if you were in the pop world but actually preferred if you weren't took my head out of that game in a really healthy way. Suddenly, it wasn't about sitting down and writing a song but having an idea while walking through New York City and thinking 'Where's my phone?'" Jepsen would revisit musical theater with an appearance in Fox's Grease Live in 2016.
When Jepsen was ready to release her follow-up to Kiss, she had more than 200 songs from which to whittle down the final tracklist. The final batch of '80s-synth inspired gems featured contributions from queer artists like Dev Hynes (aka Blood Orange), Vampire Weekend's Rostam Batmanglij and Sia. Despite a tepid commercial response, the album cemented Jepsen as a critical darling. Check out the relentlessly charming video for E•MO•TION's lead single "I Really Like You" above. Last month, Jepsen released another eight tracks from the E•MO•TION sessions as a special B-side album, once again drawing praise from critics.
Queer aesthetics are in full display in Jepsen's "Boy Problems" video. The subtext of the song's lyrics — about caring more about a relationship with a close female friend than a break-up with a boyfriend — already led to Jezebel calling it "A Beautiful Gay Song of Discovery." The video has tiaras, slumber parties, coffin selfies, glitter, sequins, dance parties; it's a 2016 Lisa Frank dark, twisted fantasy. It also prominently features trans model Torraine Futurum.
What's your favorite Carly Rae Jepsen song?