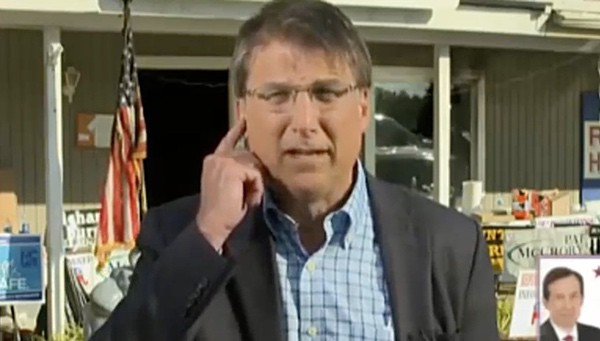 Earlier this week a coalition of artists beautifully trolled North Carolina Governor Pat McCrory on his birthday by taking out a full-page ad with a rainbow colored birthday cake to denounce him over the state's anti-LGBT HB2 law.
Said the ad: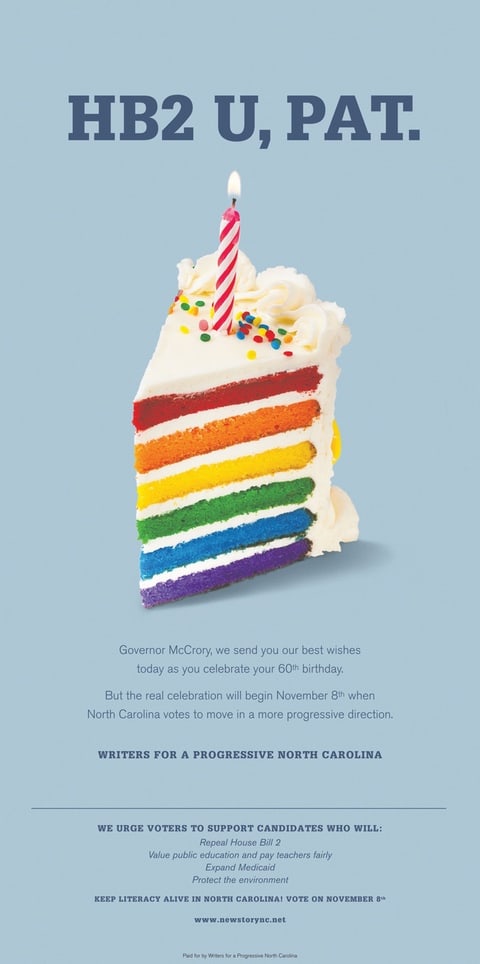 "HB2 U, Pat. Governor McCrory, we send you best wishes today. But the real celebration will begin Nov. 8 when North Carolina votes to move in a more progressive direction."
McCrory was asked about the ad in an interview with FOX News, and repeated all the misinformation he has spread over the past year about the law's origins and those who want to repeal it. He also tried to deflect attention to the damage caused by Hurricane Matthew.
Said McCrory:
"I wish they would have saved their money and not spent it on a ridiculous political propaganda and maybe would have donated that money to a lot of the homeless people that we have right now that are flooded out of their homes over about a two or three hundred square mile, actually a 600 square mile area of North Carolina. That money would have been much better spent helping people who are in shelters at this point in time, from Lumberton, North Carolina all the way to the Tar River area of North Carolina. We've got a lot of people that are hurting right now. "
McCrory, in the FOX News interview, also neglects to mention that HB2 was rushed to passage in a special session called by Republicans in order to preempt Charlotte's LGBT non-discrimination ordinance from going into effect last spring, continuing to blame the law, which has cost the state more than $395 million in revenue according to a Wired analysis, from going into effect"
"This is not a time for those types of foolish politics nor is it a time for this type of violence trying to impact our democratic system. This is all a propaganda campaign brought in from the outside of North Carolina that sadly the national media brought in too regarding this ridiculous gender debate which the left started not the right."
Attorney General Roy Cooper continues to lead McCrory in the RealClearPolitics polling analysis, though the race has tightened a bit in recent weeks.
Watch:
https://www.youtube.com/watch?v=crMnpBrzHBA