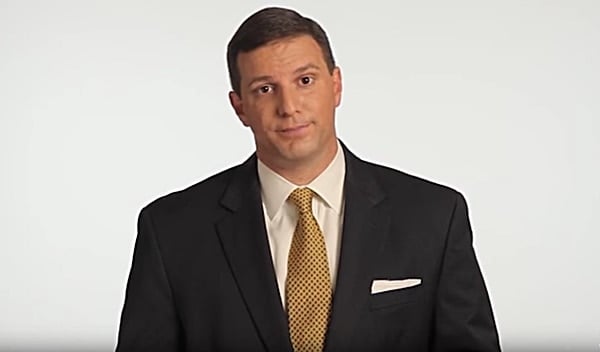 Last week we reported on Mike Yenni, a Republican politician representing Louisiana's largest parish, who is being investigated by the FBI for allegedly having sexted a 17-year-old male.
Yenni is married with a three-year-old daughter. He reportedly met the teen at a function at the teen's Catholic high school when he was mayor of Kenner, Louisiana in 2015. Yenni, 40, is a Louisiana Catholic high school alum though it's unclear if he attended the same school as the boy with whom he began sexting.
Seventeen is the age of consent in Louisiana. According to the teen, Yenni was introduced to him by a mutual friend who was 19 at the time.
Yenni has since released a video admitting he sexted with the teen and pleading with the people of Jefferson Parish for his job.
Says Yenni in the clip:
"I believe you deserve the truth from me directly. Last summer I was old enough to know better, but I guess I was still young enough to do something stupid. I chose to send improper texts to a young man. I won't go into details out of respect for the rights and privacy of all parties. I made a bad decision. I regret my actions. I apologize to the families involved and anyone who I embarrassed. Especially my own family and the people of Jefferson. Now I will work every day to prove that good people can rise from a bad decision. I want to reassure the citizens of Jefferson that I never abused or misused my powers as a public official. And I'm certainly not afraid of the future, because I'm smart enough to never repeat the past."
Watch:
Since the video was released and the sexting scandal came to light, two cities in Jefferson Parish have called for Yenni to step down. Also, "three Kenner council members have told Yenni to quit. Assessor Tom Capella, Clerk of Court Jon Gegenheimer, Coroner Gerry Cvitanovich and Sheriff Newell Normand also called for Yenni's resignation."
After learning about the recall petition, Yenni released a statement Wednesday afternoon reiterating his stance that he never "abused or misused" his office.
"I can hope the people of Jefferson will afford me the opportunity to prove that I will separate my personal challenge from my public responsibility, and that I can rise above this," Yenni said.
The young man whom Yenni allegedly sexted, now 19, spoke to WWL-TV and said that at one point Yenni came to see him at a mall food court where he worked. The pair allegedly met in a bathroom and Yenni gave the young man a pair of designer underwear and also kissed him.
Text messaging between the pair got increasingly explicit, according to the teen, and Yenni told the young man he wanted him naked.
Days later, Yenni writes to ask the 17-year-old if he's worn the underwear Yenni bought him. Yenni says he wants to see him model it.
Then Yenni texts the teen to say he wants to perform a sex act on him that night.
The youth, who is openly gay and is now in college, said in an interview with WWL-TV that he wants to expose Yenni's behavior because he finds it disturbing.
While the youth was initially flattered and intrigued by Yenni's overtures, he said the texts and phone conversations began to make him uncomfortable, such as one proposing three-way sex with him and the 19-year-old mutual friend.
"He asked me to go with him to his house in Oxford (Mississippi)," the youth said. Records show Yenni owns an apartment there. "Also, the way he would describe the sexual things he wanted to do to me. And he asked me to be a secretary or assistant in his office; that way I could be with him and not be questioned."
The FBI is investigating Yenni's behavior for reasons other than the age of the teen (as noted earlier, 17 is the age of consent).
According to one expert, the FBI may charge him with a federal law that aims to protect children under 18 from "obscenity." This law prohibits "the transmission of any comment, request, suggestion, proposal, image, or other communication which is obscene or child pornography, knowing that the recipient of the communication is under 18 years of age, regardless of whether the maker of such communication placed the call or initiated the communication."