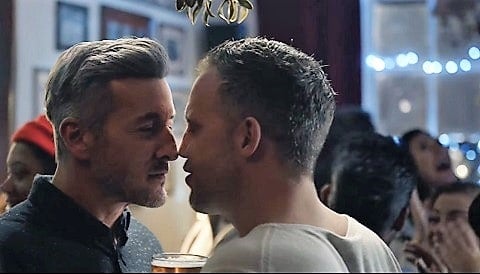 A TV spot advertising the BBC's Christmas scheduled features two men kissing – and not one person complained.
The holiday ad celebrating Britain's diversity – soundtracked by a Lucy Rose cover of "Merry Christmas Everyone" – shows two men kissing under the mistletoe.
It appears that not one person has complained to the broadcaster and not even scurrilous rag The Daily Mail has had anything to say on the burning issue. Now that's progress.
Twitter liked it.
OMG a BBC Christmas trailer featuring a gay kiss, the Daily Mail is going to shit itself!!!

— Seja (@Seja75) December 4, 2016
Awesome that the @bbc have a same-sex kiss in their new Christmas ad. It shouldn't be a big deal in 2016, but it is. https://t.co/Cg4l8Twd6W

— Wayne David (@WayneDavid81) December 5, 2016
The @BBCOne Christmas ad is so lovely. It'll brighten up your Monday for sure. (Contains a very cute gay kiss too). https://t.co/HSsO8NpwEm

— Matt J (@HejMattJ) December 5, 2016
Nice to see a bit more diversity and representation in a Xmas ad. #Christmas #bbcone #bbconeness #gay #diversity https://t.co/4tnFZxI5Xm

— Kenny McKenzie (@kennycport) December 6, 2016
Oh God, the BBC has a gay kiss in their Christmas ad. We should all phone every UKIP supporter immediately to make sure they're ok.

— Robbie 🌷🇩🇪 (@robbieg15_) December 4, 2016
Watch the ad below.