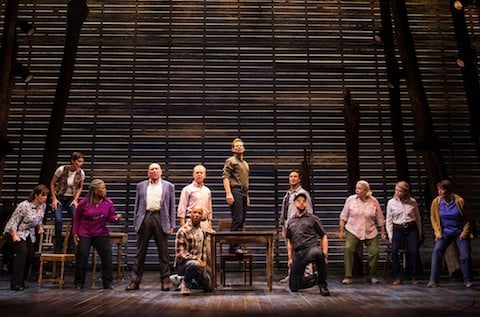 If you never thought you'd live to see the phrase "9/11 musical," you're not alone. Come From Away, which opened on Broadway last night, has a lot to answer for. What kind of story about that day is best told through song and dance? Why would anyone pay money to relive a national tragedy set to Canadian folk music, of all things? The answers waiting inside the Schoenfeld Theatre may surprise you.
Alternately heartwarming and heartbreaking, Come From Away reminds us of the simple truth that tragedy sometimes brings out the best in people. It's a story we don't hear often enough, and, yes, one worth going on about in song — to the tunes of a fiddle, a pennywhistle, and some good old-fashioned guitar.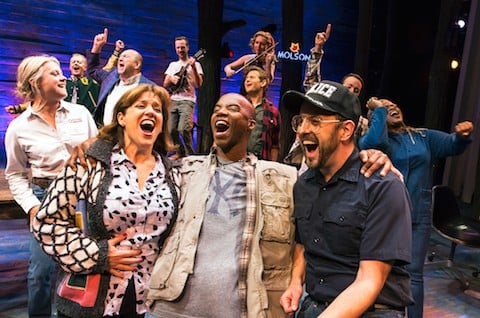 The setting is Gander, Newfoundland — as residents declare in the rousing opening number, "Welcome to the Rock" — where 38 planes carrying nearly 7,000 passengers were immediately grounded that morning when American airspace shut down indefinitely. The arrival of "the plane people," as the townsfolk affectionately call them, sparks the whole community of Gander into action. As their unlikely visitors are shuttled to schools and community centers, residents work tirelessly (and with good humor) to make sure they get enough to eat, have clean clothes to wear, and come to appreciate some local color.
Written by Irene Sankoff and David Hein, Come From Away is, of course, inspired by true events, and many of its characters are based on real people (the actors all play multiple roles). Their stories retrace the day's many reverberations big and small, through the eyes of openhearted Newfoundlanders and stranded, anxious passengers, queuing up for landlines to reach loved ones all over the world, and finally watching the news to find out what the hell is going on.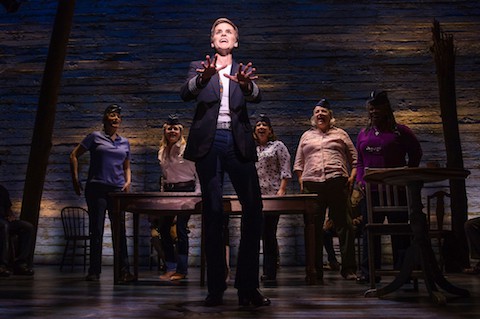 For Beverley (Jenn Colella, a standout), the first woman to make captain at American Airlines (a proud partner of the show), the attacks only strengthen her sense of duty, but forever change how she relates to her lifelong passion — the sky. For others, like Nick (Lee MacDougall) and Diane (Sharon Wheatley), the detour results in unlikely romance, while it drives a gay couple both named Kevin (Chad Kimball and Cesar Samoya) to question their priorities.
The musical's greatest challenge also works to its advantage. It's almost impossible to sit through Come From Away and not think back to where you were on 9/11 — it's the kind of memory that only seems to grow sharper with distance. While this might be considered a distraction, the production benefits from the emotional context many in the audience bring to their seats. Director Christopher Ashley's lean staging works in part because his subject matter is already so vivid in our collective imagination.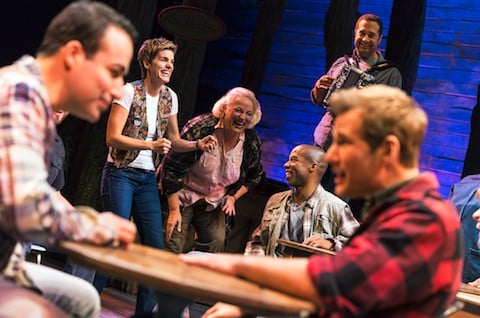 There is no footage of the towers, no recitation of facts we know all too well, and nary a detailed description of the scene on the ground in New York. This is all for the best. One of the more serious consequence the show addresses, aside from the obvious loss of life, is knee-jerk Islamophobia. Samoya doubles as Ali, a world-class chef who is strip-searched before reboarding his flight. While the scene doesn't exactly add to the conversation, it's fair to say that in their 100-minute show, Sankoff and Hein have many other stories to cover.
Strange though it may sound, Come From Away offers more to celebrate, in the end, than it does to mourn. If the generosity of spirit demonstrated by the people of Gander doesn't make your heart do a fiddle solo, I don't know what will.
Follow Naveen Kumar on Twitter: @Mr_NaveenKumar (photos: matthew murphy)