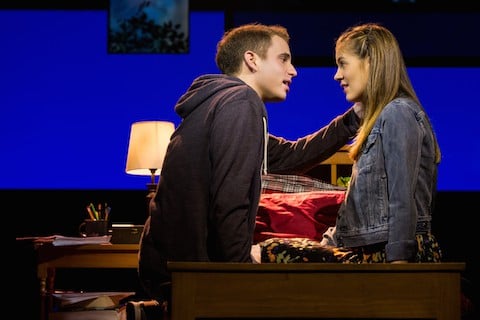 Call him a nerd, a spaz, an anxious outcast — there is a bit of Evan Hansen in all of us, especially those who may have struggled to find our tribe in high school hell and beyond. Dear Evan Hansen, which opened at the Music Box Theatre last night, is a winning, insightful, and totally of-the-moment teen dramedy for the digital age.
If its Heathers meets Ordinary People vibes don't always combine in perfect harmony, its humor and extreme heart are sure strike chords with viewers of all walks.
The title character, as embodied by a virtuosic Ben Platt, is almost impossible not to root for from the very start, and even as he gets caught up in an elaborate host of lies that become nearly impossible to escape.
Entering his senior year of high school with a broken arm (which he says he got falling from a tree), Evan is virtually friendless, on anti-anxiety meds, and being raised by a devoted single mom (Rachel Bay Jones) who's often too busy juggling work and night school to be there for him.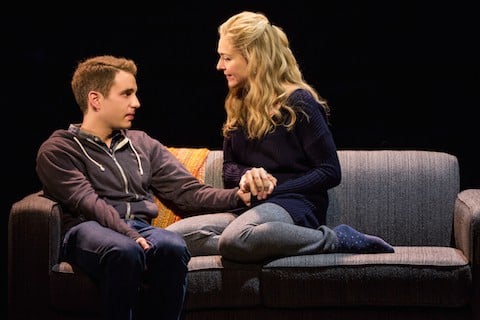 When the circumstances of a tragedy at school lead a couple to believe their late son was Evan's close friend, Evan plays into the story — both because he thinks it will help them mourn, and because he's desperate for connection himself.
It doesn't hurt that their daughter, Zoe (Laura Dreyfuss) is also Evan's biggest crush. So he spins a web of fiction (which the internet makes easy, of course) and grows close with what seems like the picture-perfect family he never had (his dad left when Evan was young).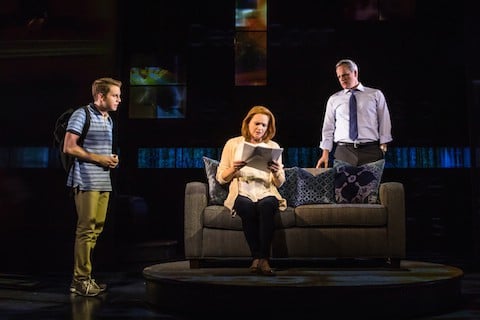 That's only the beginning of the story (written by Steven Levenson), which spins out of control once it crosses over into online territory. Director Michael Greif, who joins the rest of the creative team and cast from the show's off-Broadway run at Second Stage earlier this year, does expert work in familiar territory (2009's Next to Normal shares this show's focus on family and physiological drama). David Korins's screen-panel set and Peter Nigrini's digital projections recreate the digital language that surrounds us at every turn.
Platt, best known for his roles in Pitch Perfect and The Book of Mormon, brings a frenetic sensitivity to the role of Evan; every nervous tick or bout of word vomit feels painfully real — to the point that you may find yourself fighting the urge to climb on stage and give the kid a hug.
The eight-member company is uniformly strong, and Dreyfuss and Jones are particularly lovely as Evan's reticent love interest and salt-of-the-earth mother.
Benj Pasek and Justin Paul's score is lyrical and emotionally rich, with an emo-pop, singer-songwriter feel that's perfectly matched with the story, and offers Platt in particular many moments to shine. If a similar message pervades more than a few numbers, it's one that bears repeating for every listener, young and old — that no one is ever alone, no matter how lonely or hopeless they may feel.
Follow Naveen Kumar on Twitter: @Mr_NaveenKumar (photos: matthew murphy)