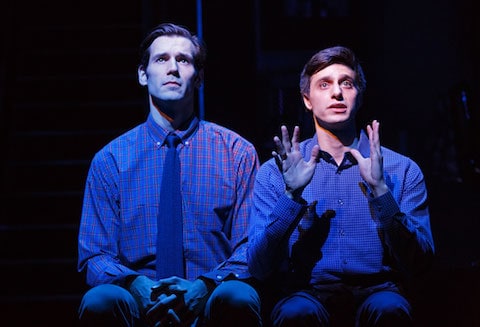 When it first premiered off-Broadway in 2015, Joshua Harmon's play about a neurotic, lonely gay twentysomething losing his best girlfriends to marriage felt like an intimate, almost painfully sincere look at very real sphere of gay experience — albeit an urban and affluent one.
My, how things change.
You might assume that in bringing Significant Other to a wider audience in 2017, Harmon and director Trip Cullman may have ventured to update the play's navel-gazing, handwringing sensibility, infuse it with some sense of urgency, or otherwise seize on the privilege, in our current climate, of having a broad platform to provide an insightful look at gay people's struggles with isolation, depression, and hopelessness.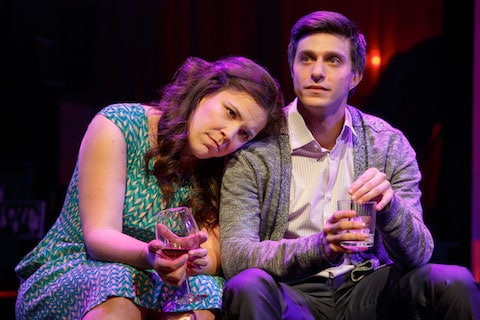 No dice.
Instead, in its move to Broadway, Harmon's play has been puffed up into something of a broad sitcom. The production fills the caverns of the Booth Theatre, where it opened last night, with misbegotten LOLs and stomach churning "awws," because oh man, isn't this glum gay guy a riot?
The more the audience roars at Jordan Berman (an endearingly spastic Gideon Glick) and his wallowing at the prospect of a life alone, the less he seems to warrant sympathy so much as pity. (You might reach this conclusion based on his impossibly frumpy cardigans alone, courtesy of designer Kaye Voyce.)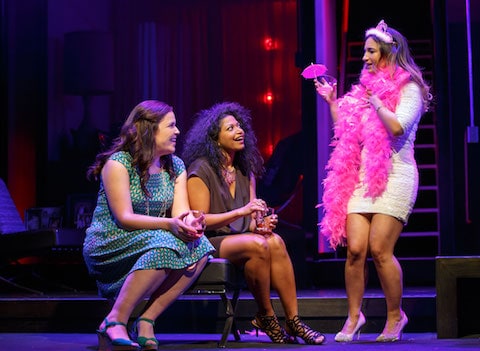 When we first meet Jordan and the girls, they're knocking back drinks at a nightclub bachelorette party for Kiki (a wickedly sassy Sas Goldberg, in the only role that benefits from the production's amped up camp). The rest of the gang, including coolly cynical Vanessa (Rebecca Naomi Jones, the only newcomer to the cast), and Jordan's closest confidant, the down-to-earth Laura (Lindsay Mendez), are united in disbelief that their messiest college bestie is the first one getting hitched.
As Vanessa and Laura predictably proceed to march down the aisle as well, Jordan spirals steadily toward self-perceived doom. All he wants is a textbook happily ever after with a husband and kids, but alas, he is woefully socially inept. (The second act opens with the most suspenseful moment of the show — whether he'll hit send on an emotionally overwrought email to a crush, a conundrum all of our 8th-grade selves can relate to, except that Jordan is 29.)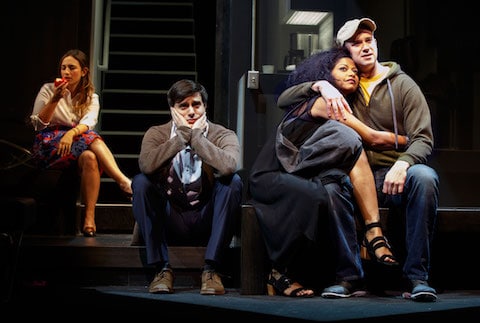 Jordan's extreme thirst is consistently played for laughs. Rather than digging into the underlying causes of his fears and insecurities as a queer person (a subject this recent HuffPo feature mines to compelling effect), the production presents Jordan as a sort minstrel of gay neuroses and delusion. He details his deep, carnal desire for the hot guy at his office pool party, and the crowd goes wild. He jokes about suicide, and it's nothing more than a punch line — that lands.
Where Harmon's easy humor previously allowed viewers a way in to a story that revealed itself to be something more sad and unsettling, laughter now drowns out most of the play's tender moments and makes the few left behind feel out of place. Of course, laughs can often stem from discomfort, but what does it say that Culman's production encourages audiences to gag on such moments of vulnerability rather than to face them head-on?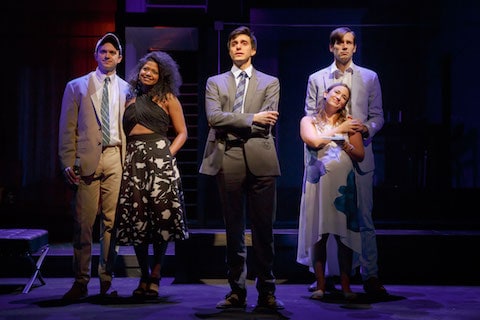 On some level, the play's conception of Jordan as "just one of the girls" is progressive in its assumption that, of course he has every right to the same dreams they have. But on another, it's awfully regressive: Is finding a man the only road to happiness? (It is not.) Just because the heteronormative path is legal now, isn't making up your own damn rules one of the best parts of being queer? (It is!) Haven't dating and hookup apps been around for like, over a decade now? (Why, yes — they're perfect for introverts!)
Here's hoping that after the curtain falls, Jordan makes some gay friends who can help him pull it together — he's missing all the fun.
Follow Naveen Kumar on Twitter: @Mr_NaveenKumar (photos: joan marcus)