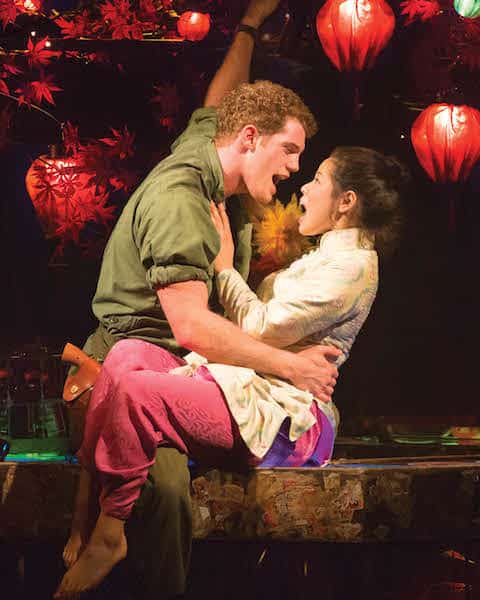 Bikini-clad women being tossed around like bales of hay. A local huckster pimping them out to horny marines. Bereft civilians desperate for a shot at the American dream. Welcome to the Broadway Theatre, where everything dated and uncomfortable about Miss Saigon, which opened March 23, is…well, just as dated and uncomfortable as it was when the show first ran there from 1991-2001 — if not more so.
One might find it an odd time to revisit our country's biggest blunder in the 20th century, but here we are in Vietnam.
In their follow-up to Les Misérables, Claude-Michel Schönberg and Alain Boublil (with help from Richard Maltby Jr. and Michael Mahler on lyrics) give Puccini's opera Madame Butterfly the mega-musical treatment — not exactly a context ripe for nuance. Indeed, director Laurence Connor's production, which first premiered on the West End in 2014, is like that friend who, when conversation turns to touchy or taboo subjects, winds up anxiously shouting exactly the wrong thing when they're not quite sure what to say.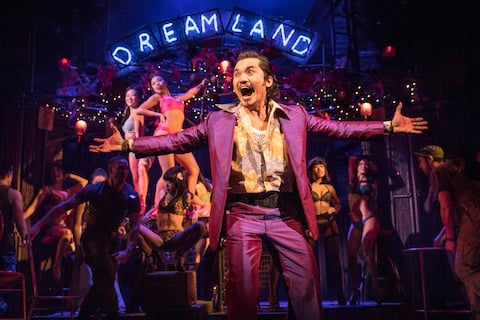 This is not to say the leading players aren't belting their hearts out like finalists on The Voice in this tragedy about finding love in a hopeless place; they are, and anyone enamored of the score will be pleased. Eva Noblezada, who was plucked from a high school musical theatre competition at age 17 to star as Kim on the West End, is a beautiful vocalist and an actress of incredible commitment. Jon Jon Biones, who was born and raised in the Philippines until he emigrated to join the original London run of Miss Saigon, is captivating as the Engineer, all smarm and well-timed laughs.
That the musical has provided such rich opportunity for actors of Asian descent over the past nearly 30 years is one side of Miss Saigon's double-edge sword. Life-changing boon though it may be in a landscape with so few roles for Asian actors, the musical has consistently faced valid criticism for presenting a colonial savior narrative of white superiority, one this production makes little effort to address, much less complicate.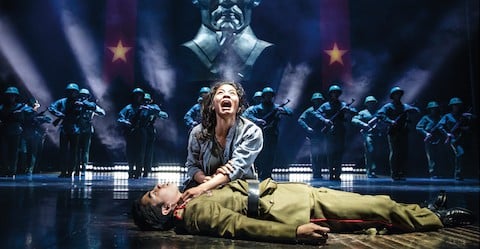 Instead, it doubles down on melodrama, turning up the volume when it's not quite sure what else to do, all of which does very little.
That Kim and Chris (a winsome Alistair Brammer) almost can't stop making out long enough to sing their first duet doesn't make their love seem any truer, or less the product of youth and delusion. The unabashed bargirl dances (choreography courtesy of Bob Avian) and neon pin-up signs ("design concept" by Adrian Vaux) don't make the story's total commodification of women's bodies any more palatable. And actors wildly gesticulating and (literally) grabbing the furniture doesn't lend the final numbers any more emotional impact.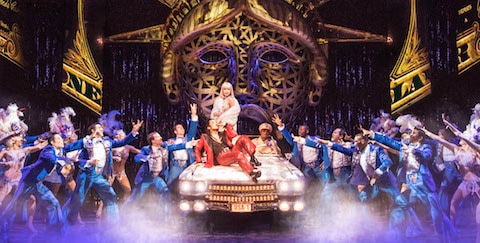 In other hands, a 2017 revival of Miss Saigon might have forced Broadway audiences to question the story's operating principles — its ideas about foreignness and American exceptionalism, its assumptions about sex and agency, its idolizing of "the American dream" (which, for the record, looks a lot like the Shahs of Sunset in Connor's production). Instead, we're left to question why it's returned as though it never left, without anything more to say.
Follow Naveen Kumar on Twitter: @Mr_NaveenKumar (photos: matthew murphy)