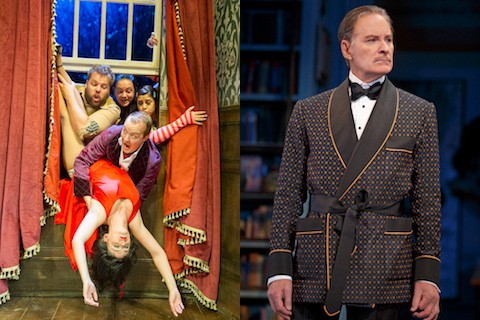 New York welcomed two crowd-pleasing British comedies about the art of theatre this week, each a prime example of where the English truly excel on stage — buttoning up with noses held high, and coming completely undone.
Though "art" may be a strong word for the whodunit presented by a relentlessly amateur troupe in The Play That Goes Wrong, which opened April 2. A backstage comedy shown from the front, the show treats audiences at the Lyceum Theatre to every cringe-inducing, gut-busting, and utterly absurd mishap that could possibly befall the company's murder mystery production.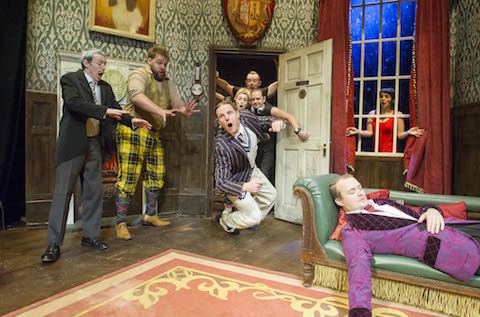 The Play That Goes Wrong began in a pub before landing on the West End and winning the Olivier Award for Best Comedy in 2015. No less than J.J. Abrams, in his first theatrical venture, is among the lead producers for the Broadway transfer. So, things seem to be going right for the Mischief Theatre production, co-written by three of its stars — Henry Lewis, Jonathan Sayer, and Henry Shields.
The play doesn't take itself seriously for a single moment, and the original cast works together like a well-oiled machine — a quality that can't be overvalued when the scenery is literally crashing down on all sides. Physical gags, goofy wordplay, and desperate attempts to preserve a modicum of theatrical illusion dominate Mark Bell's screwball production. The rapid-fire gags hardly leave time to catch your breath between spit takes.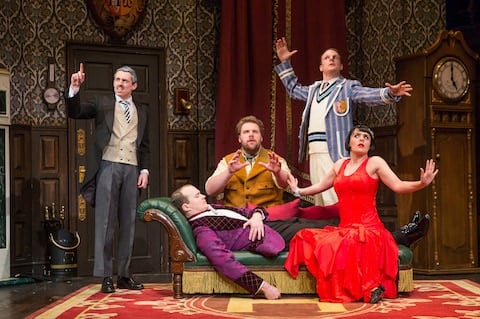 But no such antics would ever befall Garry Essendine, the London stage legend played by a superb Kevin Kline, in the handsome revival Present Laughter that opened at the St James Theatre last night. A consummate actor on stage as off, Garry considers his whole life a kind of meticulously orchestrated theatre, complete with a household staff to ensure everyone plays their part and the gravy train stays on the tracks.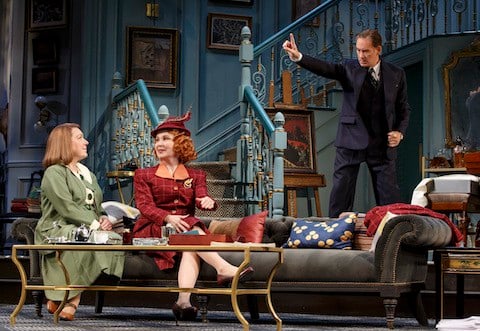 Noël Coward's semi-autobiographical comedy finds a self-aggrandizing Garry suavely traipsing his way through a series of trysts, shirking obsessive hangers-on, and preening about in dressing gowns. And yet somehow, in Kline's hands, he's not insufferable in the least. Kline, a Tony winner last seen on Broadway 10 years ago in Cyrano de Bergerac, handles Coward's elegant humor with a charming mix of subtlety and panache.
Among the powerhouse supporting players, including a wry Kate Burton as Gerry's almost-ex wife Liz, and Reg Rogers as his leery publicist, it's Kristine Neilsen, as his secretary Monica, who tends to steal the show (as Neilsen so often does in her signature daffy, spastic manner). Director Moritz von Stuelpnagel, who ushered Hand to God onto Broadway last season, proves his mastery extends beyond satanic puppets to high-minded drawing room comedy.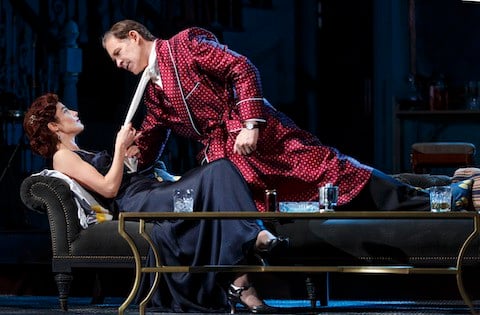 Much as in The Play That Goes Wrong, the many pleasures of Stuelpnagel's production come through in style, rather than substance (applause greets the first glimpse of David Zinn's stunning Deco-inspired set). If the posh, harried life of a wealthy actor or the cascading blunders of a flailing theatre troupe don't sound like much to sink your teeth into, rest assured it's all in the delivery — and worth the payoff of escape.

Follow Naveen Kumar on Twitter: @Mr_NaveenKumar (photos: jeremy daniel and joan marcus)