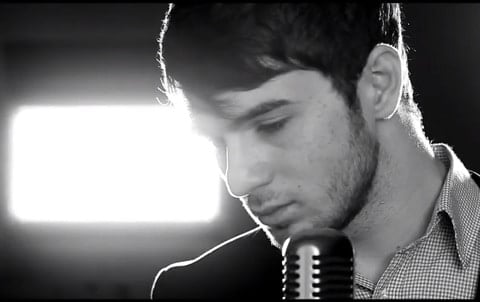 The founder of activist group Russian LGBT Network has alleged that the disappearance of a well-known singer in August is linked to the state-sanctioned torture and murder of gay men in Chechnya.
Speaking at a news conference on Monday, Igor Kochetkov said he had "received confirmation of our earlier presumption" that Zelimkhan Bakayev (above), who was last seen on August 8th in Chechen capital Grozny, was "detained by Chechen authorities due to suspicion of homosexuality."
The press conference coincided with the release of a new report by Russian newspaper Novaya Gazeta on alleged abuses against gay men in Chechnya. Novaya Gazeta was the first media outlet to publish reports of those abuses.
The family of Bakayev has pressed the authorities in vain for information concerning his whereabouts.
RFERL reports:
The mystery over his fate deepened last month when a video posted on YouTube showed a man resembling Bakayev claiming to be in Germany. But the video, which was swiftly picked up by government-controlled media in Chechnya, contained no evidence that the singer was, in fact, in Germany.
The video also showed the man — described in the YouTube teaser as Bakayev — smoking an unlit hookah pipe in a room with the curtains completely drawn. On a table in the room was a can bearing the logo of an energy drink sold in Russia but not in Germany, while Russian media noted that furniture in the room was made by Russian producers.
Officials in Chechnya have suggested that Bakayev simply left the country.
Kochetkov told the news conference that police in Chechnya declined to open a criminal case in connection with Bakayev's disappearance.
Kochetkov added that other individuals linked to the entertainment industry in Chechnya were subjected to "torture" as the authorities "tried to get information about their acquaintance" with Bakayev and "whether they had sexual relations" with him.
The first alleged victim of the Chechen crackdown on gay and bisexual men also appeared at the press conference.
Maksim Lapunov said that he was detained on the street in Grozny at the end of March by men dressed in civilian clothes.
He claimed that he spent almost two weeks in detention during which he was regularly beaten and tortured. Spending most of that time in a cellar, he said he saw fresh blood stains on the floor and was subjected to repeated beatings.
He added that interrogators tried to force him to reveal the names of others gay men in Grozny.
Lapunov believes he was released only because there were numerous witnesses to his detention, and his relatives reported him missing in the Perm region, where he is originally from.
Following his release, he said he could "barely crawl."
The Russian LGBT Network said that since April, it has been contacted by 79 people in connection with the antigay campaign in Chechnya. Of those, 27 people were allegedly kidnapped and tortured.
Kochetkov added he has evidence that 15 people  handed back to their relatives have subsequently disappeared.
Watch Lapunov speak at the press conference below.
(Image via YouTube)