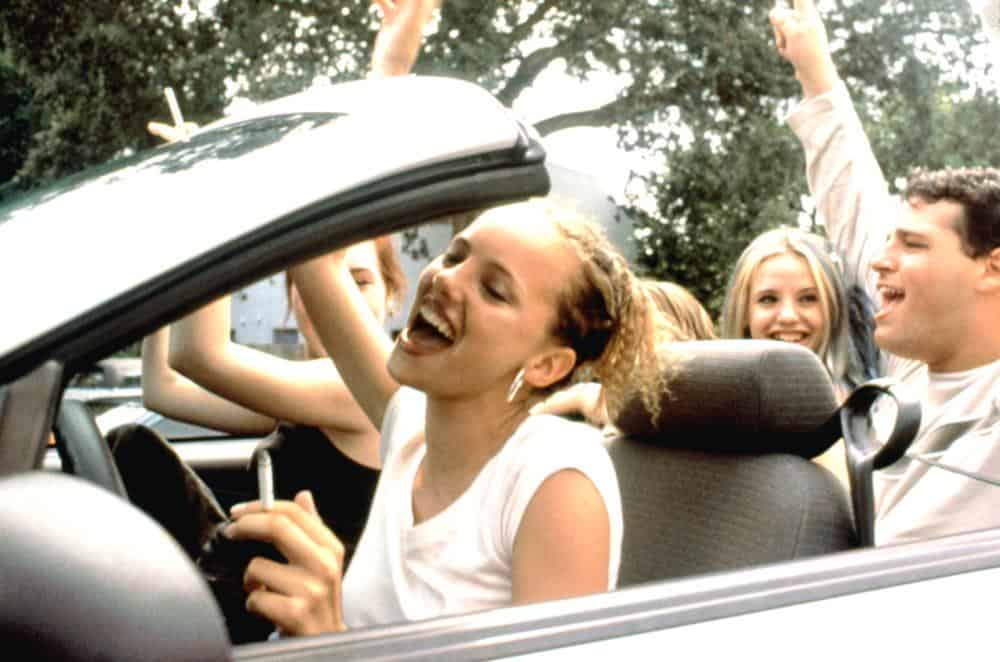 In a lengthy, detailed post on Facebook he says was inspired by Ellen Page telling her story, actor Daniel Franzese says actress Bijou Phillips sexually and physically assaulted him on the set of Bully, mocked his sexual orientation and body-shamed him.
Franzese says Phillips started with his sexual orientation. He identified as bisexual at the time, and now identifies as queer:
"She body shamed me and ridiculed me about my sexuality‬ and physically assaulted me. I was scared and closeted and feared for my job. It started with a lot of eye‪ ‬rolling whenever we spoke but‪ ‬escalated when we did a cast shoot for the poster‪.‬ ‪A‬s we were shooting she kept loudly saying "Are you gay?!" and laughing‪ while ‬the producers‪ ‬and photographer did nothing‪ ‬to stop her but some of my cast like Micheal Pitt and Brad Renfro kept telling her to shut up‪ ‬but she continued to say "Are You Gay?!" Like 10 times making sure to be loud enough for everyone to hear I reluctantly told her i was bi. Which at the time was how I was choosing to‪ ‬identify as "Q" wasn't known to be an option yet and to be honest I don't know that I had many gay experiences at the time my life. I was an extremely late bloomer. She cackled and‪ said "HA! He's bi!" And then when I showed up to work the next day in front of the crew she was screaming "Oh look! The Bi guy is here!" ‬
Phillips later body-shamed him, he said, mocking him when he had to do a shirtless scene:
"Later on in the production I had a scene where my character had to take his shirt off. It was an extremely vulnerable moment for me because I was not at all the type of guy comfortable with taking my clothes off in front of anyone at that point in my life. I was the chubby kid who wore his shirt in the pool. So I take my shirt off in the scene and she breaks character and she pointed at my body and at the top of her lungs yelled "Ewwww gross!!!" She laughed and pointed at me and continued to berate me. they call cut and I had to walk off set to collect myself. Brad Renfro (RIP) started crying and he followed me off set grabbed my face and kissed me. He told me not to listen to her that I was beautiful and such a great actor etc and i loved him and respected him so much for that moment. We continued on with my scene and she made taunting faces during all of our camera coverage prompting Brad to yell "Someone give me a real actress!" It's an odd thing but when you are afraid to show your body being and pointed at and laughed at could possibly be the worst thing that can happen."
It then moved to sexual assault:
"Franzese said Phillips later told him he reminded her of Carnie Wilson of Wilson Phillips ("Phillips at the time was well know for her weight issues in the media. It was meant to be a insult. ") and then grabbed his nipple and twisted it through his shirt."
And later another assault:
"When we shot one of our last scenes in a court room she was walking around barefoot and the bottom of her feet were black with dirt. She was sitting behind me and kept rubbing her dirty feet on my neck. I kept swiveling the chair to move away from her and she kicked me as hard as she could in the back of the head. To this day I'm not even sure if she gave me a concussion because I was light headed and dizzy for a while."
UPDATE: Phillips has apologized.
Read Franzese's full post:
Photo: Instagram.