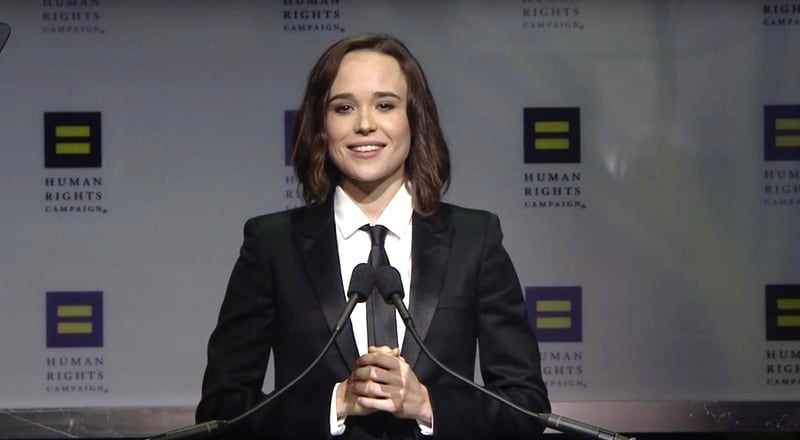 In a powerful denunciation of sexual predation by men in Hollywood posted to Facebook, Ellen Page says that on the set of X-Men: The Last Stand, filmmaker Brett Ratner outed her as gay before she was ready and told another woman, "You should f**k her to make her realize she's gay."
Ratner has been accused of sexual harassment and assault by at least six women.
Wrote Page in part (read her full post below):
"You should f**k her to make her realize she's gay." He said this about me during a cast and crew "meet and greet" before we began filming, X Men: The Last Stand. I was eighteen years old. He looked at a woman standing next to me, ten years my senior, pointed to me and said: "You should f**k her to make her realize she's gay." He was the film's director, Brett Ratner.
I was a young adult who had not yet come out to myself. I knew I was gay, but did not know, so to speak. I felt violated when this happened. I looked down at my feet, didn't say a word and watched as no one else did either. This man, who had cast me in the film, started our months of filming at a work event with this horrific, unchallenged plea. He "outed" me with no regard for my well-being, an act we all recognize as homophobic. I proceeded to watch him on set say degrading things to women. I remember a woman walking by the monitor as he made a comment about her "flappy pussy".
We are all entitled to come into an awareness of our sexual orientation privately and on our own terms. I was young and although already a working actor for so long I had in many ways been insulated, growing up on film sets instead of surrounded by my peers. This public, aggressive outing left me with long standing feelings of shame, one of the most destructive results of homophobia. Making someone feel ashamed of who they are is a cruel manipulation, designed to oppress and repress. I was robbed of more than autonomy over my ability to define myself. Ratner's comment replayed in my mind many times over the years as I encountered homophobia and coped with feelings of reluctance and uncertainty about the industry and my future in it. The difference is that I can now assert myself and use my voice to to fight back against the insidious queer and transphobic attitude in Hollywood and beyond. Hopefully having the position I have, I can help people who may be struggling to be accepted and allowed to be who they are –to thrive. Vulnerable young people without my advantages are so often diminished and made to feel they have no options for living the life they were meant to joyously lead.
Actress Anna Paquin backed up Page's claim, tweeting: "I was there when that comment was made. I stand with you .@EllenPage"
I was there when that comment was made. I stand with you .@EllenPage https://t.co/DEIvKDXeEL

— Anna Paquin (@AnnaPaquin) November 10, 2017
Wonder Woman actress Gal Gadot has reportedly said she won't return to the franchise if Ratner is involved.
A Hollywood source tells Page Six that Gadot — who last month backed out of a dinner honoring Ratner, where she was due to present him with an award — is taking a strong stance on sexual harassment in Hollywood and doesn't want her hit "Wonder Woman" franchise to benefit a man accused of sexual misconduct.
Ratner's production company RatPac-Dune Entertainment helped produce "Wonder Woman" as part of its co-financing deal with Warner Bros. The movie has grossed more than $400 million internationally, and Ratner's company will take a healthy share of the profits.
Page's full post: