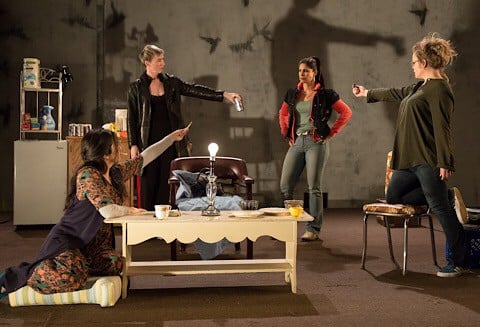 What's in a room? For the immigrant women in Martyna Majok's gripping and extraordinary new play queens, which opened off-Broadway at Lincoln Center's Claire Tow Theatre last night, a shadowy basement in New York's largest borough holds a promise.
But for what?
By the time each woman arrives at this little patch of underground, she's far from naive enough to expect some picture-perfect realization of her American dream. The makeshift boarding house is rather more a waystation, for the women's hopes both big and small — that what they seek here may not be a mirage, that the money they send home to family is worth their absence, that they'll have a place to rest their heads, at least for now.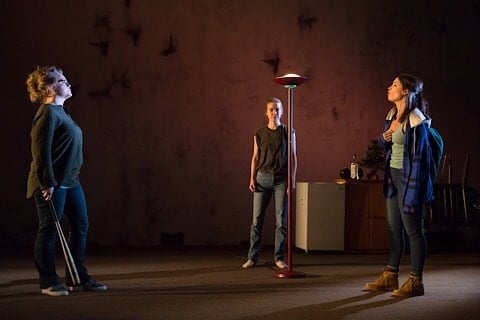 We begin in the present, as Inna (Sarah Tolan-Mee) confronts Renia (Ana Reeder, in a career high performance), the current woman of the house. Inna has come from Ukraine in search of her mother, who abandoned her for America as a child. After exchanging only a few words, Inna thinks Reina might be her and clocks her in the face.
Reina takes her in, anyway, because Inna has rent money, the basement is unoccupied, and because Reina misses her own daughter back in Poland. From here, Majok takes us back to Reina's first day in the house, shortly after Sept. 11, 2001, when we meet Aamani (Nadine Malouf), from Afghanistan, Pelagiya (Jessica Love), from Belarus, and Isabela (Nicole Villamil), who's headed back to Honduras to care for her ailing mother and her own 7-year-old daughter.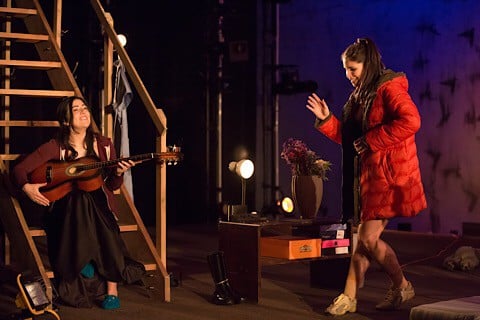 The brilliance of Majok's drama is in its bold and ambitious sprawl, traversing time and place to plunge the depths of immigrant experience, bringing us so close to the edges and surfaces of her vivid characters we can practically see the feathered brushstrokes. In Majok's hands, the women's lilting, accented English becomes a sort of impressionist's tool, deliberately, even poetically, imprecise in service of a deeper, more visceral truth.
"Can you imagine," Reina tells Inna her first night, "If whole your life had so much never." Reina is sharing a cautionary tale — about a pineapple she bought "like some secret thing" when she first arrived in Queens. "It almost burns me, so sweet. I eat whole thing. All in one time," she says. "By the end, my mouth was full with blood. Acid. The fruit, you know," she says. "Be careful."
The mood down here is at once every woman for herself and of a family fast-knit by circumstance. Pelagiya may track the levels on her milk carton with a marker, but every passing boarder leaves a trace of their story on her like a permanent dye. Defenses and doubt, honed from experience, just as quickly turn to an instinctual kind of devotion in the women's commitment to survival.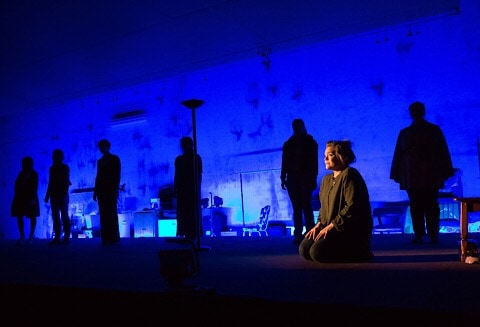 Director Danya Taylor's brilliantly staged production manages to visualize the play's epic emotional and physical journeys on an affectingly intimate scale (with help from haunting scenic design by Laura Jellinek and lighting by Matt Frey). The all-woman cast is universally electric, delivering sharp, fiercely drawn performances and making indelible marks on their roles.
"Moving means to forget sometimes," Pelagiya tells Isabela as she tries to fit everything she owns into an overflowing suitcase, over the course of a farewell party that lasts until dawn. "Progress. Progress means to forget." Only some things, like the people and places you leave behind — or even a single night like this one — are simply impossible to forget.
Recent theatre features…
Jomama Jones Is a Spiritual Mother for the Moment in 'Black Light' at Joe's Pub: REVIEW
An Outdated Rerun in Off-Broadway Bow of 'Jerry Springer: The Opera': REVIEW
Eve Ensler Returns With Breathtaking Solo Show 'In the Body of the World': REVIEW
'Cruel Intentions: The Musical' Is a Wicked Delight for '90s Lovers: REVIEW
How to Save Civilization from Certain Disaster? Take a Cue from 'SpongeBob' on Broadway (Yes, Seriously): REVIEW
In Broadway Revival of 'Once on This Island,' a Modern Fable, Beautifully Told: REVIEW
Follow Naveen Kumar on Twitter: @Mr_NaveenKumar
(photos: erin baiano)