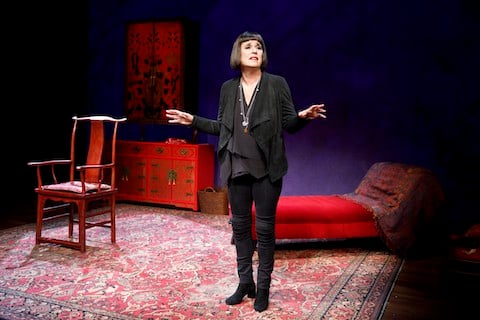 Playwright and trailblazing activist Eve Ensler made her name talking to women about their vaginas — the resulting Vagina Monologues became a global phenomenon and watershed moment for feminist theatre. Over two decades later, Ensler turns her attention inward with her latest solo show In the Body of the World, which opened off-Broadway last night.
Ensler's frank vulnerability and synthesis of the personal and political reaches thrilling new heights in director Diane Paulus' striking production for Manhattan Theatre Club.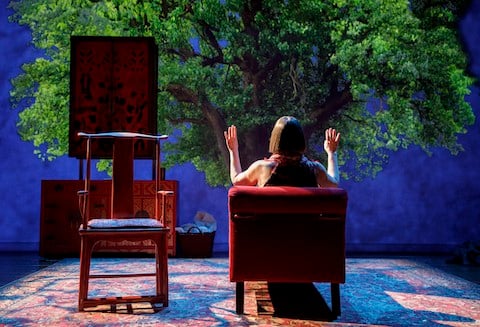 Adapted from her memoir of the same name, In the Body of the World traces Ensler's battle with uterine cancer, which began in 2010. Illness has a way of foiling the best laid plans; Ensler's just so happened to be helping Congolese women build the "City of Joy," a sanctuary for survivors of rape and abuse. "Cancer threw me into the center of my body's crisis," Ensler says in the opening scene. "The Congo threw me into the crisis of the world."
Among the play's most impressive qualities is Ensler's ability to draw such symbolic parallels between her own illness and the ills of the world in such a way that illuminates both without distortions of scale. (It's certainly a strange coincidence when doctors discover a ink-dark infection spreading in Ensler's abdomen the same day as the Gulf oil spill.) These comparisons aren't drawn out of self-importance, but to illuminate a broader point about our bodies' essential connection to the world — a truth Ensler has experienced firsthand through her years of activism in the Congo.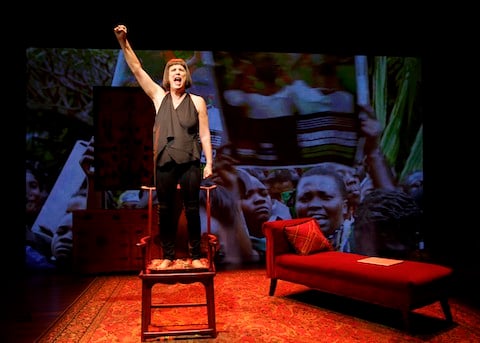 But she also manages to bring humor to a story that confronts mortality — and horrible atrocities endured by women — without flinching. Ensler is a gifted and natural storyteller, both in her prose and on stage. A series of blinks or a slight sarcastic pause is often all she needs to inflect a scene with vibrant personal color. From the intimately laid Stage I at New York City Center, Ensler speaks to the audience as though we're close confidants, sharing intimate details of her body's malfunctions with a comfortable candor.
One of the production's emotional high points actually comes on a visit to the hospital's colon post-op floor, where Ensler meets with Cindy, whom she calls "the fart deliverer." (Flatulence is a sign of healthy recovery.) This is not Cindy's job — she's a volunteer. Her body caught up in Cindy's arms, Ensler extols the value of selfless emotional labor by "the quiet, invisible often unpaid or underpaid… the Cindys who weave an invisible web of care through the lonely mansions of Beverly Hills and emergency wards and mammogram clinics."
Looking into Cindy's determined face, Ensler goes on, "I get seriously choked up and this distracts me and suddenly there is a breaking out of what is indeed, a fart."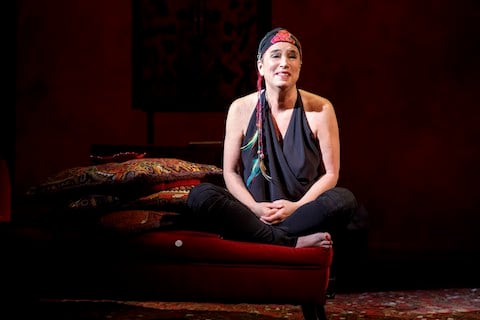 Paulus, who first helmed the show at American Repertory Theatre where she serves as artistic director, helps seamlessly blend the story's ups and downs (but mostly in betweens) into something that feels a lot like life, in a simple, richly visual production (projections are by Finn Ross) with a stunning final flourish.  
Having faced down cancer and returned to the stage (not to mention opened the City of Joy), Ensler has rarely seemed more exhilarated or full of life — just when we need her most.
Follow Naveen Kumar on Twitter: @Mr_NaveenKumar
(photos: joan marcus)