Some jokes make you laugh so hard you feel sick to your stomach — others just make you feel a bit sick. In the 15 years since Jerry Springer: The Opera made its acclaimed debut in London, where it ran on the West End for two years, much of the crass humor in its satire of the shit-stirring, hair-pulling talk show has migrated from the former column into the latter.
The musical's off-Broadway premiere, which opened last night in a New Group production at the Signature Center, feels so late to the party that all the revelers have gone home, and maybe flipped on Real Housewives.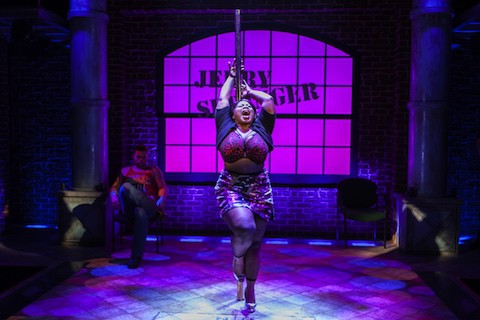 Not that the party was everyone's scene to begin with. Coming from British creative team Richard Thomas and Stewart Lee, Jerry Springer presents a garish outsider perspective on what is admittedly an equally lurid slice of American pop culture. But while Springer may still be on the air, America is reckoning with itself on nearly every front. Director John Rando's production might have been the perfect opportunity to reassess a musical about viewers' insatiable appetite for witnessing the misfortunes of those on the margins.
Unfortunately, Jerry Springer: The Opera is content to keep laughing without thinking about it too much.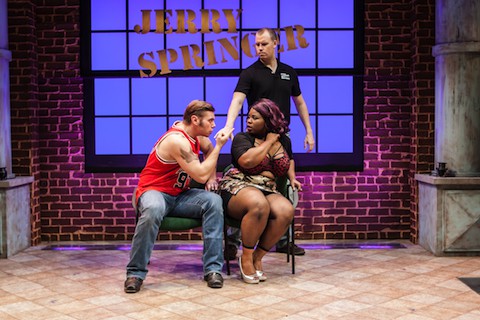 The first act finds Jerry's warm-up act (Will Swenson) riling up the crowd before Jerry (Terrence Mann) brings on a few rounds of guests. The first is man who's cheating on his wife with her best friend (classic)… and, to both of their surprise, a transwoman too. Of all the musical's sore thumbs (which include a KKK tap dance), it is perhaps the ensuring number called (cringe with me now), "Chick with a Dick" that smarts most. There's no waiting for another stiletto to drop, for irony to redeem what otherwise just feels offensive.
Thomas and Lee's score, whose operatic style brilliantly matches the emotional extremes inherent to the talk show, is almost entirely composed of punch lines (many of them less off-putting). Most often, its the pairing of profanity with high opera that lends itself to knee-jerk guffaws — a kind of auto-amusement that hits before you even have a chance to think. ("What the fuck? What the fuck? What the fucking fucking fuck?" is a recurring refrain.)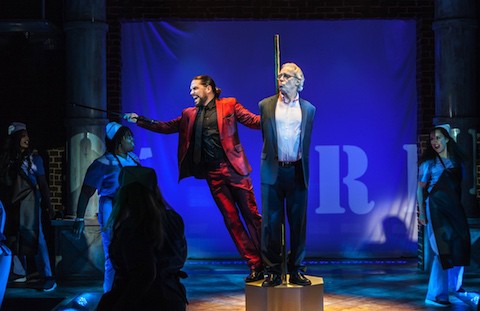 Springer's daytime hour serves up a similarly instinctual kind of titillation, one that doesn't require — and indeed discourages — much thought, a quality that helps account for its longevity. Of course, we now have Bravo and E! serving our collective fascination with the dramas and foibles of the elite rather than their opposites. And even when we peer in on pregnant teenagers, the camera looks on with some measure of sympathy.
But Springer, and the opera in his name, still have their focus trained on ridiculed outsiders, by the musical's admission, these include: fat people, midgets, cuckolds, sex workers, transgender folk, and more. Class is the one thing that unites Springer's guests with his heckling audience, recreated here with a chorus that occupies the front rows. That this craven peanut gallery is fueled by their desire to feel superior to those who are worse off is a dynamic the musical might have done well to explore, particularly right now.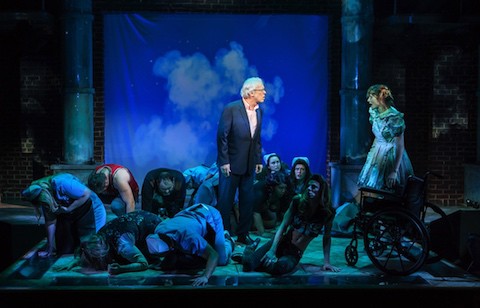 Instead, it settles for cheap, if at times hearty, laughs. A bizarre theological battle between Jesus and the devil in the second act set in hell does little to grapple with the earthly sins laid out (much more divertingly) in the first. While Jerry pays lip-service, as the host himself does at the end of each episode, to his audience taking care of ourselves and each other, by this musical's conclusion, the sentiment rings hollow.  
Follow Naveen Kumar on Twitter: @Mr_NaveenKumar
(photos: monique carboni)