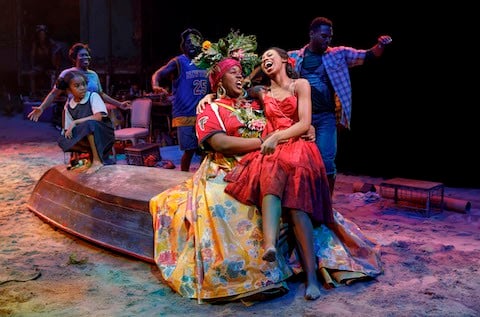 A storm in the first minutes of Once on This Island brings the realities of its setting into sharp focus. Islands like the French Antilles, where this fable is set, are ruled by the elements and marked by extremes: wealth and poverty, leisure and toil, joy and sudden loss. The same holds true of director Michael Arden's vivid and transporting revival of Lynn Ahrens and Stephen Flaherty's bittersweet musical one-act, which opened last night.
Broadway's only theatre-in-the-round, Circle in the Square is already a kind of island, one scenic designer Dane Laffrey ingeniously transforms into an actual one. Sand fills a stage surrounded by seating on all sides (and water on one), the scent of burnt garlic wafts through the air, there's even a live goat (!). That visceral quality suffuses every aspect of Arden's production, reaching its height in an explosive Salome-inspired dance performed by the show's breakout star Hailey Kilgore.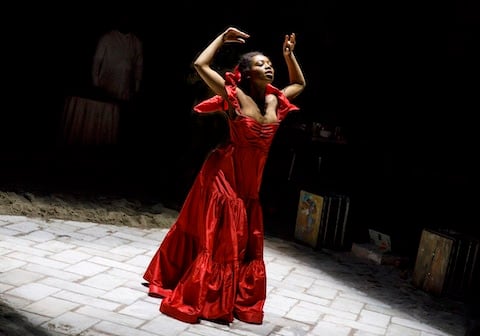 The show-stopping scene, vibrantly choreographed by Camille A. Brown, marks a moment of desperation for Ti Moune, played by Ms Kilgore. Based on a 1985 novel by Trinidad-born Rosa Guy, the musical mixes elements familiar from both fairy tales and Shakespeare: a girl, orphaned in a storm and saved by divine intervention, is taken in by a peasant couple (Phillip Boykin and Kenita R. Miller, both exceptional). She grows up fast and just as quickly falls for the French-descended and light-skinned Daniel (Isaac Powell), whom she saves from near death, beginning a fated (and fatal) love story across class and cultural lines.
It's not a simple plot to stage, much less in 90 minutes. But Arden's hyper-imaginative revival, the first since the musical's premiere in 1990, engulfs audiences in Ahrens and Flaherty's elemental fable, and makes a convincing case for the power of storytelling extolled by the score.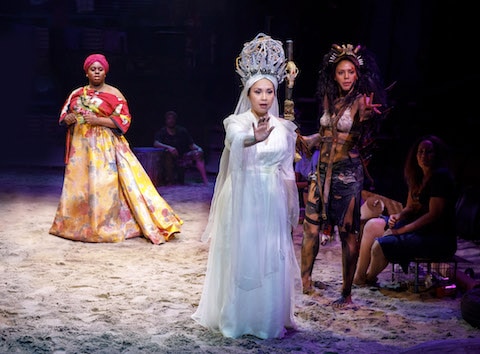 One source of that power here lies in the production's casting of the deities, which include Lea Salonga (Tony winner for Miss Saigon) as Goddess of Love in an otherwise all-black ensemble, a regal turn from Glee's Alex Newell as Mother of the Earth, and Merle Dandridge as Demon of Death, a role originally written for a man. (Quentin Earl Darrington rounds out the divine foursome as God of Water.)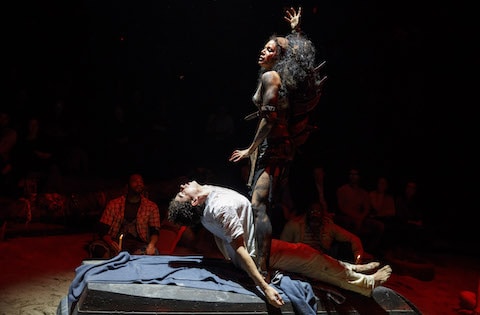 The presumed moral of the story — about a woman whose entire reason for being is to love a man who, let's be fair, turns out to be two-timing trash — may not stand up to close inspection. But how the story is told, and who's doing the telling — in this case, a phenomenally talented cast of color, demonstrating in body and in voice the resilient spirit of a people whose stories are so often lost  — is something to be inspired by.
Follow Naveen Kumar on Twitter: @Mr_NaveenKumar
(photos: joan marcus)