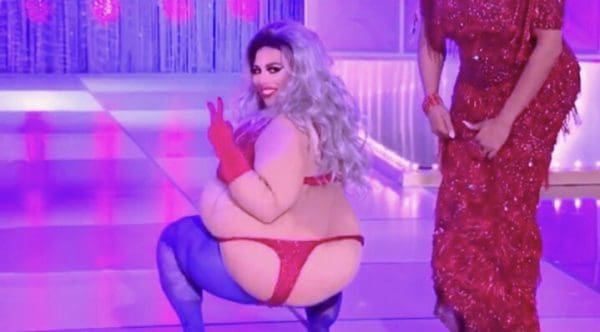 After last week's shenanigans and a few lackluster challenges, RuPaul's Drag Race All Stars finally gave us a challenge that felt like better times. It was the kind of deeply silly sketch that clearly reflects Ru's personal humor and sensibilities, and — alongside a pretty straightforward runway theme — it allowed the girls to showcase exactly what they've got.
A strong showing is exactly what's needed following Ru's latest controversial statements. It's the latest misstep for Mother Ru, a figure that has transcended even her pop culture impact to become something of a spiritual figure for many. Here's hoping the subsequent apology is coupled with an increased spirit of inclusivity and respect. Charisma, uniqueness, nerve and talent know no gender. Bring on the fiercest queens, regardless of however they identify.
Also important: Can they commit to a fart joke? Like reeeeeeallly commit? Find out why that's crucial in our recap and rankings below.
Fresh off Ben's self-sacrifice, the girls are seriously shooketh. Though, oddly, instead of finding the act merely over-dramatic, there's an overwhelming impression that it was calculated. Somehow, they all believe that maintaining the image of Miss Congeniality is truly key to Ben's success. Not her humor, nor her character, nor her showgirl aesthetic; just being nice? Do they really think that's what will make her career? It just doesn't track for me.
Congresswoman Nancy Pelosi breezes through the workroom briefly to, I don't know, tell everyone to vote? Make Trixie cry? It's a super strange segment that has nothing to do with this week's challenge.
Ru tells the ladies they'll each be playing serious Oscar-worthy ladies in a raunchy lady comedy. Make sense? No? Yeah, it took me a minute too.
Morgan gets to assign each girl a character in My Best Squirrelfriend's Dragsmaids Wedding Trip. She gives Bebe the Queen (inspired by Helen Mirren's film of the same name); Shangela gets Actavia (a mash-up of characters from The Help and Hidden Figures); and Kennedy is the singing, dancing La La (an ode to Emma Stone). Morgan casts Trixie as Sharon Frockovich (a campy take on … well, you get it), and Morgan takes Beige Swan for herself.
Filming with director Ross Mathews plays out pretty much as expected. Shangela could crush a challenge like this in her sleep, but she still brings it fully. Trixie turns a part she wasn't initially enthused to take on into a scene-stealing gatling gun of one-liners and sight gags. Bebe does Bebe, because that's what Bebe does. Kennedy comes out kicking and spinning, but never really makes a choice that elevates whatever was on the page.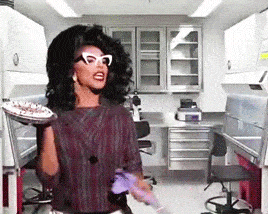 Worst by far is Morgan, which is strange, since she chose the part. At first, she merely plays a ballerina. Ross has to egg her on to get some quacks out of her, but there's hardly even a hint of menace. Where's the intensity? Where are the hallucinations? Where's the aggressive masturbation?
Preparing for the runway, the girls share one of the most vulnerable (and interesting) convos we've witness on All Stars 3. First, the queens discuss how Trixie can be stand-offish and maybe has a bit of a reputation for being something of a diva. Trixie confides this is part of her personality, not a reflection of ego. It's an honest conversation that's completely devoid of unnecessary reality-TV drama. It feels like sisterhood. It's love and support without pulling any punches.
Similarly honest, Kennedy reveals how she often feels like a second-thought to other queens and fans. It's quite the confession among performers whose larger-than-life personalities often come part and parcel with outsized attitudes. It's heartbreaking, as well. I know I might not get as hyped for Kennedy, but I still remember the first time I ever saw her perform live. She was breathtaking. She brought the house down. She earned AN ENCORE. For all the premiere party performances I've been fortunate enough to see, I've never seen queen get an encore in the middle of the damn show. Hopefully, this All Stars appearance will have folks lining up at the next meet and greet to see this legendary dancing diva.
The runway is simply a red theme, and everyone looks fabulous. (More on individual looks below.) They finished trailer for My Best Squirrelfriend's … is a ridiculous romp, replete with a prolonged fart gag that I can't help but enjoy no matter how much I want to be better than that.
Trixie and Shangela are rightfully rewarded with top marks, and everyone else is up for elimination. During deliberations, Morgan hopes Shangela and Trixie — two queens who previously had second chances on Drag Race — understand where she's coming from. Bebe doesn't understand what she did wrong, and Kennedy feels pretty confident. Maybe that's because she knows she has Shangela in her corner, and Shangela is quite the lip sync assassin.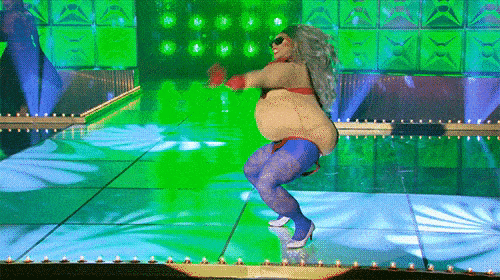 Both Shangela and Trixie turn it out, but Shangela packs some surprises that make this more than just a lip syn assassination; it's a lip sync slaughter. Beneath a boxy frock, Shangela reveals a fat suit, sparkly pasties and a thong. She proceeds to twerk the gig down to RuPaul's song "Freaky Money." Ru is beside herself, cackling like we've never seen her cackle before.
She easily takes the win and sends Morgan packing.
We've only got one week until the finale. At this point in the competition, we're really splitting hairs, as all the remaining queens are top-notch talents. Still, we have our amateur armchair critic obligations. So check out our rankings for the remaining queens below, and leave your pick in the comments.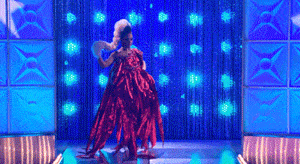 1. It would be a shock for anyone but Shangela to end up in the Hall of Fame. Not only did she come into this competition with a ton of tricks up her sleeve, but the redemption arc of transforming from the unpolished amateur girl we met in season two to the seasoned professional we see before us is too good for producers to possibly resist. She crushed this challenge, and that lip sync was legendary. Plus, she pulled out that stunning inflatable, spiky dress to sure up what may have been her strongest overall showing on Drag Race yet.

2. Of all the remaining queens (and maybe of all queens ever) Trixie may be my favorite. She's a comedic tour de force, and her red runway look was creative and cool. I love her sense of humor. I love her unique aesthetic. I love her show on Viceland. She doesn't need to win here. She doesn't need to be redeemed. Shangela would have to seriously sink herself next week for another girl to step up. If that happens though, it's got to be Trixie.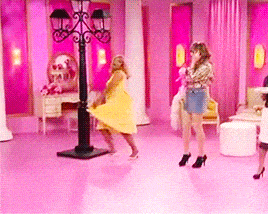 3. Kennedy, I love you, but this just isn't going to be your time. Your drag is fire. You may be the greatest dancer and showgirl we've ever seen on this show. I just don't think you excel at enough varied skills to compete with Shangela or Trixie overall. When it comes to doing what you do best, you're peerless, and there's no shame in that. Kennedy's runway was gorgeous, a shimmering stoned gown ready for a red carpet.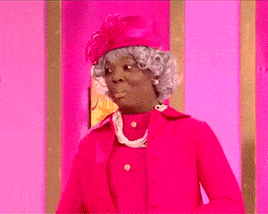 4. At this point, I am fully over Bebe. You know that saying, when all you have is a hammer, everything looks like a nail? That's how I feel about Bebe. Similar to Kennedy, Bebe can do a portion of this competition extremely well, but it's a limited skillset. However, Bebe seems to lack an awareness of her weaknesses. I was extremely disappointed with her face mask on the runway. She looked so much better without it. (And her admission that she's unfamiliar with Ornacia was also almost unforgivable.)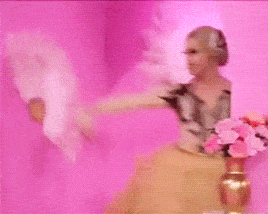 5. What a waste it was to bring back Morgan. Watching her "act" was painful. It's not that she made the wrong choice, or she failed to execute a choice properly. She just made no choices. Morgan has looks, she has attitude, but I just don't think she has VISION.
How would you rank the remaining queens?