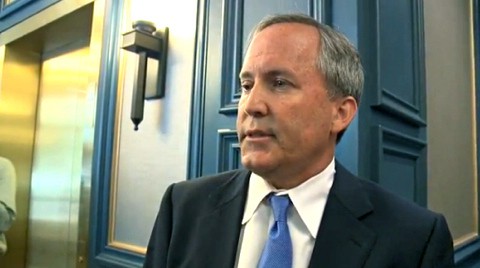 Texas Attorney General Ken Paxton will not face a contempt hearing for defying the U.S. Supreme Court's same-sex marriage ruling.
A federal judge on Wednesday canceled Paxton's Sept. 10 contempt hearing over the state's failure to issue an accurate death certificate to a gay widower for six weeks following the ruling. Paxton asked U.S. District Judge Orlando Garcia to cancel the hearing last week, and attorneys for the widower, John Stone-Hoskins, agreed to the request.
U.S. District Judge Orlando Garcia wrote that the state has fully complied with his order from last month to implement guidelines for recognizing same-sex marriages in issuing birth and death certificates, and to process all pending applications.
However, Garcia also noted that he's received mailings from people alleging that some county clerks in Texas are still refusing to issue marriage licenses to same-sex couples.
"These incidents have not been properly filed and are not before this Court," Garcia wrote. "Nonetheless, the Court understands … that the attorney general does not intend to represent any clerk facing litigation for its failure to issue marriage license to same-sex couples. The Court expects that Ken Paxton, as Texas Attorney General, and Kirk Cole, as interim Commissioner of the Department of State Health Services, will utilize their unique positions to ensure proper implementation of the law across the State of Texas. Ensuring full compliance with this Court's July 7, 2015 final judgment and the Supreme Court's Obergefell decision will preclude the need for this Court's intervention and will allow Attorney General Paxton and Commissioner Cole to focus on other State affairs."
In the wake of the high court's decision in Obergefell v. Hodges, Paxton issued a nonbonding opinion that essentially encouraged county clerks to defy the ruling, which he called "lawless." Paxton's opinion resulted in an ethics complaint being filed against him with the State Bar of Texas. Meanwhile, Paxton is also facing felony charges for alleged securities fraud.
Read Garcia's full order below.
https://www.scribd.com/doc/277847530/Garcia-order