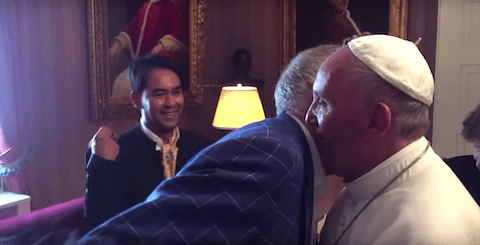 Yayo Grassi, the Pope's gay former pupil who brought his partner to meet the pontiff in Washington D.C., is speaking out more about his experience, saying the religious leader treated him like an old friend.
Pope Francis specifically made time for his former Argentine pupil after Grassi wrote a letter to the pope expressing that he'd like to see him, ABC News reports:
"I said, 'I know you're going to be very busy but I would love to see you, and if you have time, and if you think that it would be possible, let me know.' And he wrote back to me and said, 'Let me think of a time and schedule that will work for both of us.' Something like that, something to that effect.
"He called my cell phone. And I just couldn't believe it. I thought it was a prank at the beginning. But he called me by the nickname when I was a student so I knew it was him. … I said 'Oh my God what are you doing.' And he said, 'Well I have your phone number you told me to call you.' And I said, 'Yeah, but call me from Washington … you don't have to pay long distance!'"
Grassi brought his boyfriend of 19 years, Iwan Bagus, to the private meeting held at the Papal Nunciature in Washington, D.C., where the former pupil and teacher embraced each other as old friends:
"When he [Francis] shows up on that corridor and I see him, and we embrace, it was so wonderful.
"I joked with him, we told each other a couple of jokes, and then I introduced all my friends to him, and they had things to bless and we talked. He asked me how my business is doing, what kind of food I was cooking, really things of a friend, that a friend would ask another friend."
Although Pope Francis met with anti-gay clerk Kim Davis, Grassi came to Pope Francis' defense, asserting that the Pope was blindsided into meeting Davis and had no idea who Davis was. Davis' Liberty Counsel lawyers maintain that the Vatican lied, saying Pope Francis offered Davis her unconditional support.