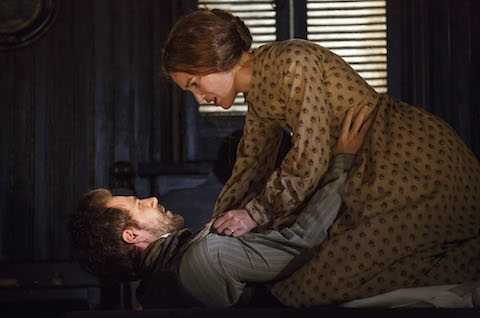 Fans of salacious French fiction and late 19th-century art will find themselves plunging deep into the Roundabout Theatre Company's spellbinding and visually stunning production of Émile Zola's Thérèse Raquin, which opened last night at Studio 54.
Featuring Keira Knightley in a commanding Broadway debut, director Evan Cabnet's production feels like so many paintings come to life, and playwright Helen Edmundson's adaptation of Zola's novel brings a page-turning urgency to the twisted 1867 tale. Pretty people engaging a hot-burning love affair never hurt anyone, either (except maybe themselves… okay, and others).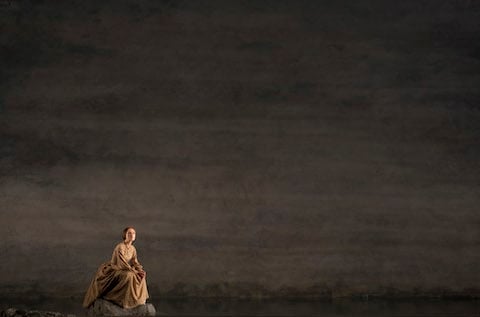 Orphaned at an early age, Thérèse lives in a rural village with her sickly, arrogant cousin Camille (Gabriel Ebert) and her aunt (Judith Light, officially a Broadway treasure). Thérèse's father was a sea captain, and she has his restlessness, coupled with a crippling anxiety of nonspecific origins (when she looks out over the river, it feels kinda like this). Her swift engagement and marriage to her cousin is duly absurd, and he just as quickly decides the family will begin a new life in Paris.
The wry, satirical tone of the first few scenes gradually gives way to an increasingly melodramatic plot, wherein Thérèse meets an old school chum of her husband's in Paris, Laurent (Matt Ryan), with whom she becomes immediately obsessed. As their affair ignites, Knightley transforms from an anxious sort of insect into a fevered and passionate lover.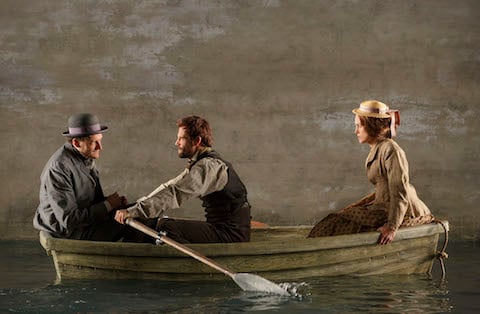 Unlike the angst-ridden Thérèse, Laurent is hearty — always hungry, virile in bed, and something of a dilettante. Together Knightley and Ryan have a crackling chemistry, and though they don't disrobe (sorry guys), and their quickies last a matter of seconds, their mutual lust is palpable. To reveal more of the plot would give away too much, but suffice it to say it isn't all smooth sailing for the two lovebirds, and their actions have haunting consequences.
Knightley's silver-screen experience serves her well in Cabnet's cinematic production, particularly as her character's intense feelings often remain unspoken. Like Thérèse, everyone else seems to inhabit their own worlds, though this is more indicative of the characters' extreme self-obsession than of disunity among the company's acting styles. Light, in particular, is masterly as the fretting and then put-upon Madame Raquin (seated in their Paris flat, she is the very picture of the archetypal mother).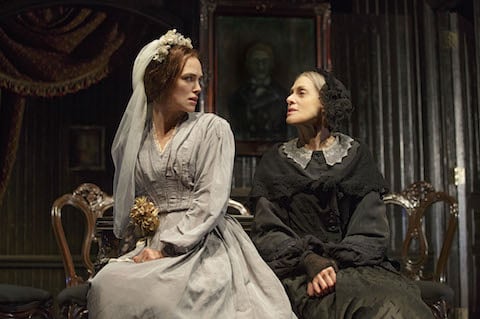 Led by Beowulf Boritt and his jaw-dropping set, the design team delivers a vivid and arresting physical production. Lighting from Keith Parham resembles highlights on a painted canvas, and Jane Greenwood's economic costumes likewise feel lifted from master artworks. A steady and eventually propulsive soundscape from Josh Schmidt is integral to the show's immersive momentum.
The lights come up along with that familiar dazed feeling of closing an absorbing book, and it seems a wonder that so much happened while you sat in the dark.
Recent theatre features…
Matthew Broderick and Annaleigh Ashford Bring Canine Comedy 'Sylvia' to Broadway: REVIEW
Topher Payne's 'Perfect Arrangement' Takes on Govt's Anti-Gay Witch-Hunt: INTERVIEW
Clive Owen Stars in 'Old Times' on Broadway and 'Cloud Nine' Comes to Atlantic Theatre Co.: REVIEW
'Spring Awakening' Couples Sign Language with Sexual Discovery on Broadway: REVIEW
16 Big Shows Coming to Broadway This Fall: A Cheat Sheet
Hip-Hop Juggernaut 'Hamilton' Opens on Broadway: REVIEW
Follow Naveen Kumar on Twitter: @Mr_NaveenKumar (photos: joan marcus)