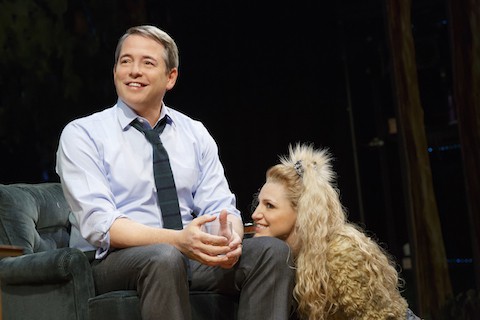 Dogs can liven up even the most mundane circumstances. As the titular pooch in A.R. Gurney's 1995 comedy Sylvia, which opened at the Cort Theatre last night, Annaleigh Ashford is perhaps the best proof of this in Broadway history.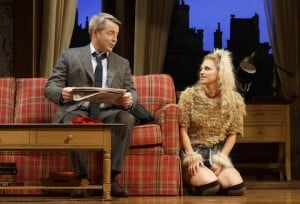 Ashford, who won a Tony for her spit-take-inducing turn in last season's You Can't Take It With You, brings the same razor-sharp timing and signature kook to her performance as a spunky rescue who shakes up the lives of her new owners (yes, she plays a dog, you'll have to go with it). But the Broadway premiere of this boy-meets-girl (er, dog) story proves Gurney's 20-year-old trifle to be more table scraps than satisfying sit-down.
Matthew Broderick plays Greg, a married mid-lifer who brings home a stray pup from Central Park one day and claims her as his own. Greg's wife, Kate (Julie White), who's been relishing their empty nest and focusing on her career as an inner-city schoolteacher, is reluctant to welcome the new dependent. Oh, yes, and Sylvia is actually a pretty young woman on a leash.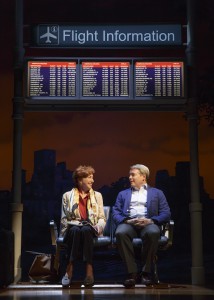 Sylvia can speak aloud to both of them, but shares Kate's mutual indifference and immediately showers Greg with unconditional affection. Throw in the fact that Greg is disillusioned with his job, and the thrust of play's mid-life-crisis plot is plain enough within its first five minutes (though it takes some 120-odd more for Gurney to spell it out for his audience).
It's difficult to discern much about Greg's crisis — or much about Greg at all from Broderick's lolling, everyman performance — except that it involves a female. She may be of another species, but Greg's relationship with Sylvia ultimately amounts to an emotional affair, and a thinly veiled stand-in for an actual affair. Greg is with Sylvia at all hours of the day, he feels most alive when he's with her, he ultimately has to choose between his wife or Sylvia, and on and on.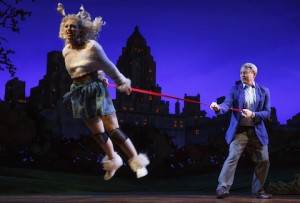 If you spend the play waiting for a big twist or for the concept to deliver a major payoff, there isn't one, and it doesn't. (Unless you didn't know that man has a special relationship with his proverbial best friend — now you do.)
And yet, Ashford lends the proceedings, directed by Daniel Sullivan, enough charm to keep them entertaining throughout, provided you're able to get past the misogynist premise that she is, in fact, a woman on a leash at a man's beck and call. Her spastic physicality, priceless mugging, and ultimately deeply felt performance anchor what is otherwise a featherweight production.
Recent theatre features…
Topher Payne's 'Perfect Arrangement' Takes on Govt's Anti-Gay Witch-Hunt: INTERVIEW
Clive Owen Stars in 'Old Times' on Broadway and 'Cloud Nine' Comes to Atlantic Theatre Co.: REVIEW
'Spring Awakening' Couples Sign Language with Sexual Discovery on Broadway: REVIEW
16 Big Shows Coming to Broadway This Fall: A Cheat Sheet
'The Legend of Georgia McBride' Teaches Intro to Drag Off Broadway: REVIEW
Hip-Hop Juggernaut 'Hamilton' Opens on Broadway: REVIEW
'The Absolute Brightness of Leonard Pelkey,' By Trevor Project Co-founder James Lecesne Opens Off Broadway: REVIEW
Follow Naveen Kumar on Twitter: @Mr_NaveenKumar (photos: joan marcus)