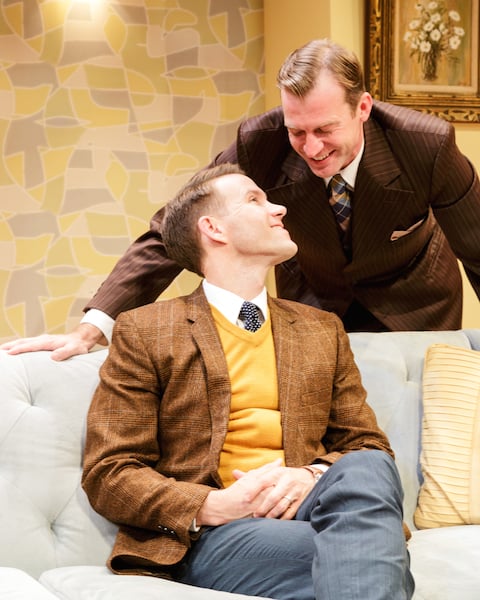 Perfect Arrangement, which opens Off-Broadway October 15 at Primary Stages, gives a lesser-known — and totally terrifying — moment in gay history a clever sitcom treatment. Written by Atlanta-based scribe Topher Payne, the play is set during the "lavender scare" in the 1950s, when the U.S. state department fired hundreds of employees over allegations of homosexuality. The government's internal witch-hunt, which rode the tide of McCarthyism, deemed gay men and women deviants and national security threats.
Payne's story finds government higher-up Bob Martindale (Robert Eli) tasked with leading the hunt, along with his secretary, Norma Baxter (Julia Coffey). The thing is, Bob's got a boyfriend, Jim Baxter (Christopher J. Hanke), and Norma's got a girlfriend, Millie Martindale (Mikaela Feely-Lehmann) — they're married to each other's same-sex sweethearts. Not only that, but they live in adjoining townhouses — connected by a two-way closet (naturally).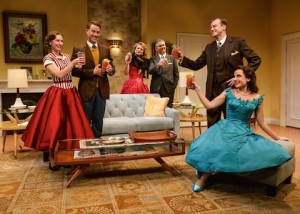 The premise paves the way for plenty of revolving-door antics, and ultimately, the threat of serious consequences should the couples' secret be discovered. Through what Payne calls "the farce of attempting to pass," the play explores what it means to hide who you are, and why coming out is as political as it is personal. Nearly two decades before the Stonewall riots, the nascent beginnings of the gay rights movement began in reaction to the lavender scare.
I spoke to Payne about his inspiration for the play, the surprising history behind it, and why celebrating "straight-acting" gay people is a problem.
Naveen Kumar: Can you tell me a bit about where you got the idea for this play?
Topher Payne: I read [The Lavender Scare by David Johndon] and was so compelled by the story of what had gone down in the '50s and frustrated with the fact that this was not a piece of our history that all of us know.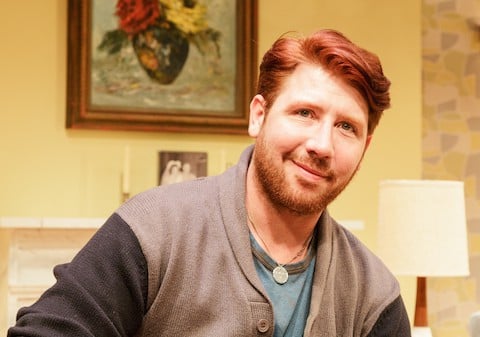 In 2009, I got married in Massachusetts and came back to Georgia, where my marriage license was purely decorative. My husband took my name when I got married… it was just smart if something happened to us… It was just easier if we had the same last name to prove that we were family, and then we could just be brothers or cousins or whatever the situation called for. There was such an absurdity to that, which was of course frustrating and soul-sucking, and also just really funny… At some point, the story that became the Martindales and the Baxters really grew out of that.
NK: What was the most surprising thing you discovered about gay and lesbian life in this period, when you dug into the history of the 1950s?
TP: The born-out-of-necessity collusion between the gay community and the lesbian community to protect each other. The first gay bar I ever called home was the one gay bar in Jackson, Mississippi, and because there was just the one, there were no divisions in the community. It was the black gay bar and the white gay bar and the lesbian bar and the trans bar, and everybody was in the pool together. Atlanta, of course, has a much more thriving and diverse queer community, so there's enough of you to be able to form your own pockets within that community. Unfortunately, that can also result in a breakdown in communication between people who are having divergent life experiences.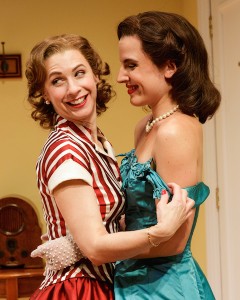 So, reading The Lavender Scare, I felt that little piece of home, like, 'Oh, I remember when we were all in this together.' And they were in the trenches together, and there was this battlefield mentality of, despite any differences or disagreements, we have to keep each other safe. There's something quite beautiful in that.
NK: Was there a history of people making the arrangement the couples do in the play, which is to enter a heterosexual marriage in order to have relationships on the side?
TP: Very much so, because it was the ultimate marriage of convenience. I don't know that they were buying townhouses and connecting them by a closet (laughs). It was the ultimate marriage of convenience, everybody wins! There were many, many examples of that in the era.
NK: The people in the play are well to do, they're white, they're middle class. Why did you decide to look at this history from the perspective of people who are "hiding in plain sight" by following conventions rather than, say, more marginalized characters?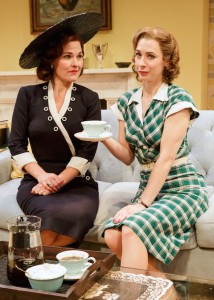 TP: I am well aware that this is my first play about a bunch of white people (laughs). That was certainly born out of the oral history that inspired the piece in the first place, which [was given by] government employees, who in 1950, would have been uniformly white and middle class to upper middle class… Of course, there were no people of color represented in popular culture at that time, and because the world of the play is so aspirational — they're trying to live up to exactly what they see on television — creating this universe where everything is lily-white and exactly what's on the cover of House Beautiful and TV Guide was really interesting to me.
There's the moment in the show where Norma says, "You would never stand for this if they were doing this to Negros." And he's like, "Well, of course not, because that's an immutable trait, that's who they are." And you see this interesting division in self-perception. Because we're talking about a time when being queer was considered to be a mental illness at best.
NK: There's a degree of self-loathing that comes along with being in the closet, whether from lacking the courage to come out or from thinking there's something wrong with who you are. I thought these dynamics played out very interestingly in the play. Can you speak a bit about that?
TP: By the act of being closeted, you're effectively colluding with the enemy. They're telling you that there's something shameful and wrong about the nature of your existence, and by choosing to fly under the radar, you're acknowledging the veracity of that argument. They even say in the play, "This will never stop if we keep hiding."
But I think it's rea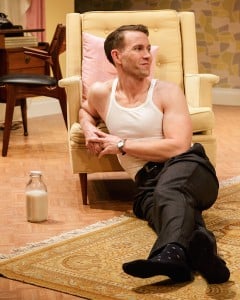 lly interesting that something so clearly born out of necessity can end up making the problem so much harder to fight, because then you're not standing together as a community. It wasn't really until the government did this grand sweep of well-educated, well-spoken individuals who — now that they were marked with this brand and had nothing to lose — that you saw the first stirrings of the Mattachine Society. As in all things, the tactics of your oppressors can also be the very thing that presents an opportunity. And I find that encouraging.
NK: I hate to ask this question of writers, but considering how far we've come in the past year with the Supreme Court decision on same-sex marriage, what do you hope audiences will take away from revisiting a time when things were so vastly different?
TP: What I hope they would take away from it is kind of the farce that's built around passing. The gains we've made in visibility and respectability in American culture in the past decade are really unfathomable when you think about it. But we, as a queer culture, still place a really high value on passing, on your ability to assimilate into the culture at large. We celebrate our very feminine lesbians, we celebrate our very masculine gay men, we celebrate trans individuals who look like they were born the gender that they are presenting as. And we consider those successes.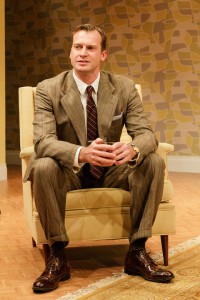 One of the things I feel Perfect Arrangement addresses, or certainly attempts to address, is the farce of attempting to pass, attempting to craft yourself in the image of someone that you simply are not, rather than exploring in broader terms the identity you feel genuinely compelled toward.
We have the benefit of history and being able to look back and knowing that, as the characters in the show are starting to experience a world outside of their own home, there's a long way to go. We're seven years before the first public demonstrations in D.C. We're 19 years before Stonewall. I'm so intrigued by that moment before, the moment that people have the first stirrings of, I deserve more than this.
I think in a lot of ways, we're living in one of those times. Despite the rights that we've gained, they're certainly not unchallenged. It's an uphill battle, but it's still a battle, so we can win it. I would love for my play to be less relevant, but frankly there are a lot of things that were introduced into American culture 65 years ago that are still very present today.
Perfect Arrangement is in performances at The Duke on 42nd Street through November 6.
Recent theatre features…
Clive Owen Stars in 'Old Times' on Broadway and 'Cloud Nine' Comes to Atlantic Theatre Co.: REVIEW
'Spring Awakening' Couples Sign Language with Sexual Discovery on Broadway: REVIEW
16 Big Shows Coming to Broadway This Fall: A Cheat Sheet
'The Legend of Georgia McBride' Teaches Intro to Drag Off Broadway: REVIEW
Hip-Hop Juggernaut 'Hamilton' Opens on Broadway: REVIEW
'The Absolute Brightness of Leonard Pelkey,' By Trevor Project Co-founder James Lecesne Opens Off Broadway: REVIEW
Follow Naveen Kumar on Twitter: @Mr_NaveenKumar (photos: james leynse)