Two plays penned in the '70s by towering British playwrights opened in New York last week, each with vastly different approaches to tackling the nature of sexuality and desire.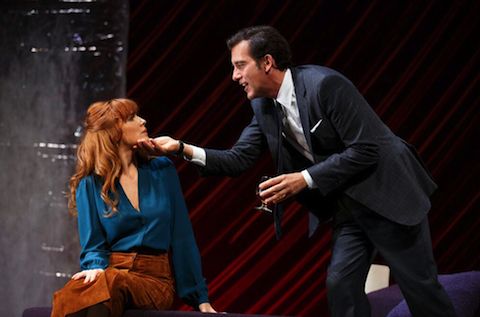 Clive Owen stars in Harold Pinter's Old Times (which opened on Broadway October 6 at the American Airlines Theatre), an enigmatic drama centered on a love triangle that leaves viewers with more questions than answers.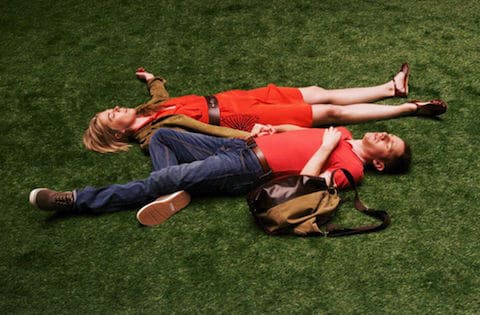 Caryl Churchill's seminal play Cloud Nine (which opened October 5 at the Atlantic Theatre Company), on the other hand, spells out more explicit truths about everything from unrequited love to masturbation than you're ever likely to hear in one sitting.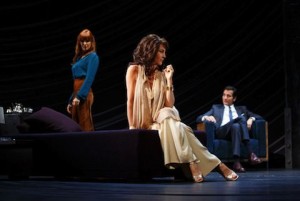 Old Times opens on a couple (Owen's character, Deeley; and Kate, played by Kelly Reilly) in their home in a remote English town, smoking cigarettes and discussing Kate's old friend Anna (Eve Best), who's coming for a visit after a long absence. When Anna arrives, she recounts the fun-filled years when she and Kate were twentysomething roommates in London, frequenting cafés and soaking up city life. It's revealed that Deeley knows Anna from these years, too, as he recalls a party where he looked up her skirt (it's also revealed that she was wearing Kate's underwear at the time). The dynamics shift into a sort of duel between Deeley and Anna over who stakes a greater claim over Kate.
Roundabout Theatre Company's production, directed by Douglas Hodge (who's also an actor, last seen on Broadway in La Cage Aux Folles), makes clear, not so subtly and from the get-go, that we're likely someplace where space and time are less than fixed. This is largely thanks to designer Christine Jones' cosmic backdrop and what appears to be a large block of ice in the middle of the stage. (Original music from Radiohead frontman Thom Yorke helps, too.) In the end, the story swirls with questions: Is everyone on stage real? Or is anyone imaginary/ already dead? Who takes a bath in the middle of a quasi dinner party?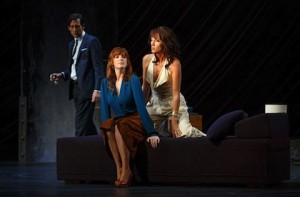 As is true of much of Pinter's work (and, well, of British people generally), characters don't often directly say what they mean, and more can be inferred from how someone says something (or what they don't say) than from what is actually being said. In this case, the subtext is all sex. Best and Reilly both exude a sort of carnal energy that keeps the show's swift 70 minutes palpitating with lust, both acknowledged and buried. Owen is lucky if he can keep up.
Churchill's characters take the opposite approach, declaring their desires straightforwardly and with abandon at every opportunity. The playwright eschews subtext for a radical honesty that is often both hilarious and deeply affecting.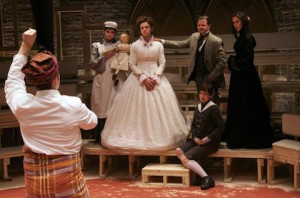 Cloud Nine's first half finds a British family living in a colony of Africa during Victorian times. The patriarch, Clive (Clarke Thorrell), is joined by his wife, Betty (played by Chris Perfetti in female garb), his son, Edward (played by Brooke Bloom, in boys' garb), Betty's mother (Lucy Owen), a black servant (played by white actor Sean Dugan) and a governess (Izzie Steele). With the separate arrival of two visitors, the family's neighbor, Mrs. Saunders (also played by Steele), and Clive's friend Harry (John Sanders), a lascivious explorer, nearly everyone lusts after someone forbidden to them.
The second half takes place in 1979 (when the play was written), though as the program notes, only 25 years have passed for the characters. We find Betty (now a grandmother, played by Bloom), Edward (Perfetti), and his sister Victoria (Owens, in a role played by a baby doll in the first act) living in London. The siblings become variously involved with Lin (Steele), a lesbian divorcée with a young, pigtailed daughter (played with great range by Thorrell). Dugan plays Edward's on-again, off-again lover, and Sanders plays Victoria's estranged husband Martin.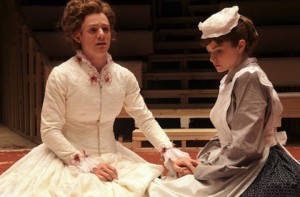 The production, performed in the round and directed by James Macdonald, a longtime collaborator of Churchill's, is an appropriately intimate treatment of intimate subjects. The cast is uniformly superb, particularly Ms. Bloom, who as both Edward and Betty, seems always on the verge of immense outbursts of feeling, even while playing with a doll or meeting a stranger in the park.
The shuffling of players, including their cross-dressing, lends integral color to Churchill's exploration of kinship, gender politics, and shifting ideologies. In their grappling with what they want and from whom, and whether they are allowed to want it and by whom, there are levels are truth that are likely to astound.
Recent theatre features…
'Spring Awakening' Couples Sign Language with Sexual Discovery on Broadway: REVIEW
16 Big Shows Coming to Broadway This Fall: A Cheat Sheet
'The Legend of Georgia McBride' Teaches Intro to Drag Off Broadway: REVIEW
Hip-Hop Juggernaut 'Hamilton' Opens on Broadway: REVIEW
'The Absolute Brightness of Leonard Pelkey,' By Trevor Project Co-founder James Lecesne Opens Off Broadway: REVIEW
Follow Naveen Kumar on Twitter: @Mr_NaveenKumar (photos: joan marcus, doug hamilton)