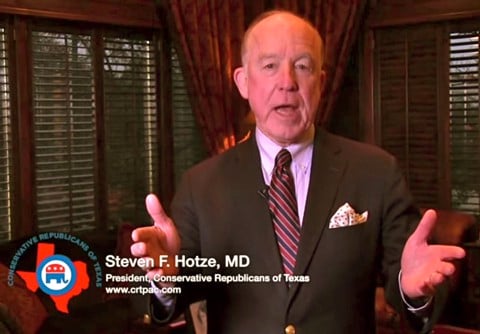 Dr. Steve Hotze, the chief funder of the campaign to defeat Houston's Equal Rights Ordinance, now says HERO was part of a "satanic movement" promoting transgender rights.
Hotze made the comments Monday during an appearance on "The Sam Malone Show," according to audio and a transcript posted by the Texas Freedom Network:
Malone: It's like you always said, "Alright, so I want to be a frog." Then I go, "Dude, you're not a frog." "But I identify as a frog." OK, but you're not — you're Steve. It's a weird world."
Hotze: It's delusion. It's deception and delusion. I think the whole thing is a Satanic movement on our country that is promoting evil of every kind and trying to force it upon the members of society. And men and women of faith have got to rise up and say we're not going tolerate this. We're gonna say no- this is unacceptable behavior, we're not going promote it. And then we're going to legitimize it and make it a minority class. Really?
Hotze, a longtime anti-gay activist, poured hundreds of thousands of dollars into the anti-HERO fight. Earlier this year, Hotze wielded a sword on stage at an anti-gay rally and pledged to drive "homofascists" out of Houston and back to San Francisco.
At a legislative committee hearing in hearing in April, Hotze likened gays to murderers and compared same-sex marriage to the Holocaust. In the wake of the Obergefell v. Hodges decision, he called Supreme Court justicies "lousy bastards" who "hate God" and "want to let Sodomites queer our country." And he said the decision would lead to teachers encouraging kindergarteners to try anal sex.
Hotze's comments Monday came two days after pro-HERO Democrat Sylvester Turner defeated Hotze's endorsed candidate, Bill King, in Houston's mayoral runoff. Chalk one up for Satan.