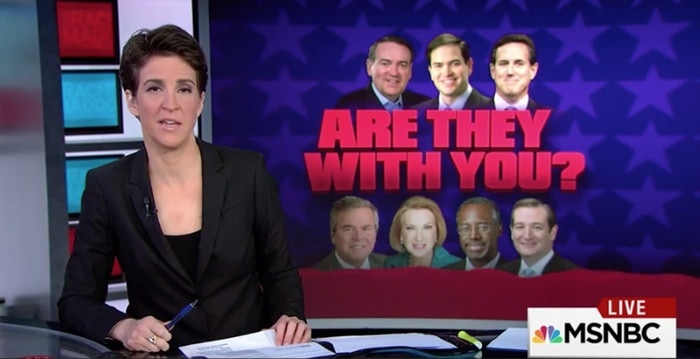 Rachel Maddow last night previewed today's hate conference, the Free to Believe Forum hosted by Rick Scarborough and the Family Research Council at which the FRC has promised eight GOP presidential candidates – Jeb Bush, Ben Carson, Ted Cruz, Carly Fiorina, Mike Huckabee, Marco Rubio, Rick Santorum and Donald Trump – will appear (watch it LIVE HERE).
Maddow, who drew parallels to Kevin Swanson's "kill the gays" forum from several months ago, notes that the Trump campaign has told her producers that he will not be involved.
Says Maddow:
"The Family Research Council says they're going to appear in a special broadcast with the guy who says he is so opposed to homosexuality that he once said he was ready to burn to death rather than accept gay marriage as legal…Where Rick Scarborough really stands out is in his continued propagation of the theory that AIDS is a disease sent by God to punish gay people which at this point is kind of an old fashioned assertion, even for the religious right. Rick Scarborough is so old fashioned about this he even still refers to AIDS by one name that was used for a hot second in the early 80s – it meant 'gay related immune deficiency' – Scarborough still uses that term."
Watch:
As Towleroad reported yesterday, according to FRC, the four-hour forum will be broadcast to more than 160 churches in all 50 states as "a webcast training conference designed to equip people to stand up and champion religious freedom in your city."
In addition to the presidential candidates, the broadcast will feature former reality TV stars the Benham brothers, the Southern Baptist Convention's Dr. Ronnie Floyd, the Liberty Counsel's Mat Staver, Houston Pastor Steve Riggle and Oklahoma Wesleyan's Everett Piper.