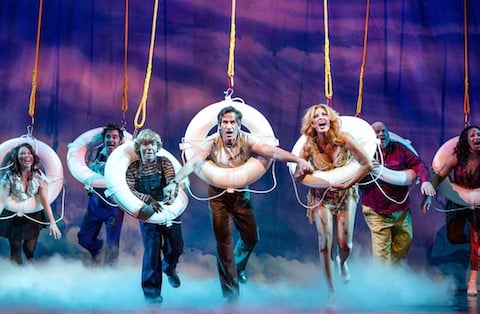 To dispense with the obvious, Disaster!, a new musical comedy that opened at the Nederlander Theatre last night, does not make good on its title. Written by jack-of-all-trades Seth Rudetsky (who also stars) and Jack Plotnick (who also directs), the musical delivers plenty of laughs spoofing '70s disaster films to a soundtrack of the era's most recognizable hits. Its combo of nostalgia and cheap gags makes for a crowd-pleasing, if not exactly original recipe, and its ensemble of Broadway heavyweights, while capable of much more than they're tasked with here, certainly seem to be having a blast.
The story (such as it is) shares the one main objective of most jukebox musical plots: shoehorning a diverse medley of hits into two hours, in this case, as cleverly as possible. Fortunately, a typical disaster story — It's coming! It's happening! OMG, what now?! — comes complete with built-in absurdity and emotional extremes. Disaster! takes full advantage of both to deliver a veritable '70s revue. You've been warned.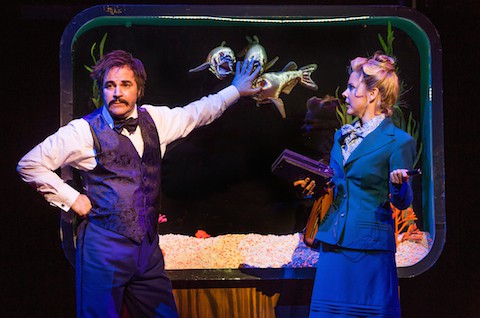 A huckster (Roger Bart) has outfitted a cruise ship into a floating casino/discotheque on the Hudson River piers, and it's opening night. As patrons begin boarding (looking for some "Hot Stuff," what else?), a joyless disaster expert (Rudetsky) warns of an imminent earthquake right underneath the barge. He is likewise looking for "Hot Stuff" — to bubble up in his chemist's beaker and prove that his calculations are correct. (Can you see where this is going?)
A cast of stock characters is introduced: a hard-nosed reporter investigating safety violations (Kerry Butler); her ex, a cater waiter on board (Adam Pascal); a couple of Queens-bred patrons (Faith Prince and Kevin Chamberlin), and a ditsy lounge singer (Rachel York). All of these are stand-alone marquee names, and together they lend what might otherwise be flimsy material some much-needed star power. Also along for the ride are a fading disco diva (Lacretta Nicole), a deadpan nun (Jennifer Simard, a comedic standout), and a pair of boy-girl twins both played hilariously by Baylee Littrell. (Fun fact: His dad is Backstreet Boy Brian Littrell.)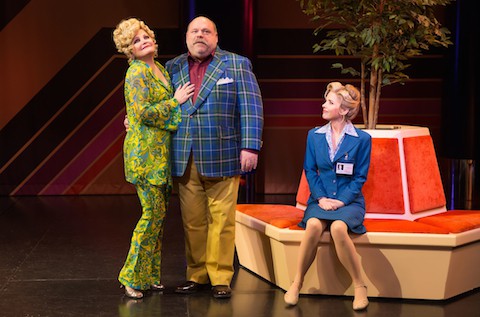 Originally staged off-off-Broadway in 2012, then again off-Broadway in 2013, the production has a scrappy vibe that fits will with its broad satire — but one that also matches its slipshod storytelling. Three romantic plots are interspersed throughout, but the staging unfolds like series of haphazard run-ins that only grow more random and chaotic after, well, disaster strikes. In his first outing directing on Broadway, Plotnick juggles a lot of moving parts, though it may have taken an outsider's perspective to make them add up to a more coherent whole.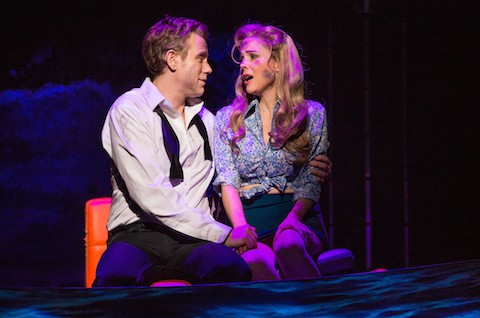 If you can see some of its gaffes coming from a mile off (I don't have to tell you which Gloria Gaynor hit makes a cameo by night's end), it's often with the silly sort of anticipation you might reserve for plopping down in front of a funny movie you've seen on cable a hundred times. You know just how it's going to go, but you switch off your brain and watch what happens, anyway.
Recent theatre features…
Zachary Quinto Opens in 'Smokefall' Off-Broadway: REVIEW
Broadway's 'The Humans' Is So Real, It's Almost Uncomfortable: REVIEW
Bedlam's 'Sense & Sensibility' Delights Off-Broadway: REVIEW
Backstage Farce 'Noises Off' Opens on Broadway: REVIEW
Towleroad's Top 10 Plays and Musicals of 2015
Follow Naveen Kumar on Twitter: @Mr_NaveenKumar (photos: jeremy daniels)