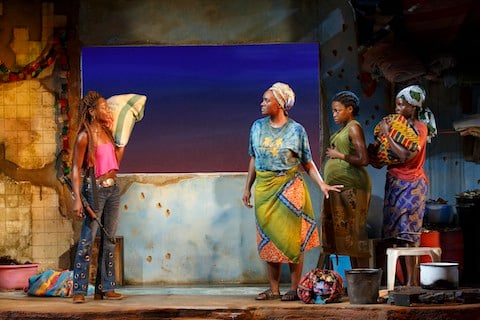 Some things may seem impossible to imagine. But with Eclipsed, which opened on Broadway March 6 at the Golden Theatre, playwright Danai Gurira transforms what for many remains a vague notion of far-off suffering into an intimately observed, forceful, even entertaining drama. Led by Oscar winner Lupita Nyong'o in a stunning Broadway debut, the production's extraordinary cast presents a vivid portrait of four women captured by rebels during civil war in Liberia.
Gurira's winning strategy, deftly executed by director Liesl Tommy, includes balancing the atrocity of the circumstances with an unexpected levity. Eclipsed is unflinching. But Gurira, who is also an actress and currently appears on The Walking Dead, knows how to pair harsh truths with bits of sweetness to make them hit home that much harder. From the playful cadence of the women's dialect to a handful of broad physical gags, the play's disarming humor serves to draw viewers further into what might otherwise be an unimaginable situation.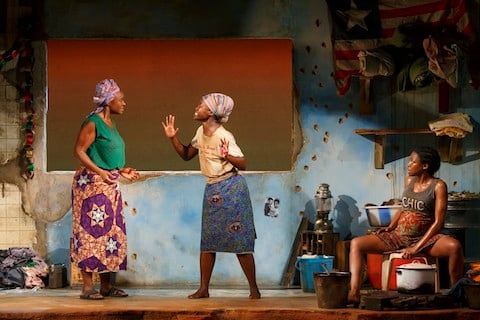 Awful though it certainly is, the captives' setup has an almost sitcom-like vibe: Multiple women cohabitate under one small roof; the eldest (Saycon Sengbloh as the first wife of the commanding officer) is in charge. There's a new addition to the group (Nyong'o, wife No. 4) in need of guidance and protection. Another can often be counted on for laughs (Pascale Armand as wife No. 3), and another is a strong-willed rebel who mostly stays away (Zainab Jah as wife No. 2).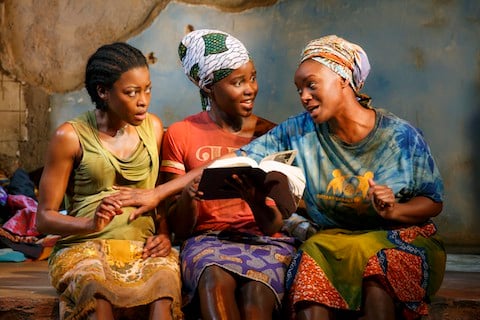 Survival in captivity breeds a unique kinship, one that finds the women both caring for each other and bickering like any other family. Their everyday life has a kind of rhythm, wherein their conversations (some of them even lighthearted) are interrupted by their husband's sexual demands. It's a pattern that only becomes more devastating as we get to know them the strength of their wills. By the time circumstances take a sharp turn in the second act, we understand each of them and their disparate reactions with wrenching clarity.
This is due, in large part, to the amazing ensemble assembled here. In a culture that often overlooks the experiences of women of color — on screen, on stage, and elsewhere — it is a welcome gasp of fresh air to witness an awesomely skilled, all-Black cast of women deliver this collection of insightful performances. Not only because they are simply a marvel to behold (and they are), but because they lend a voice to people who've been systematically oppressed and silenced (and whose suffering is otherwise represented on Broadway as a punch line in The Book of Mormon).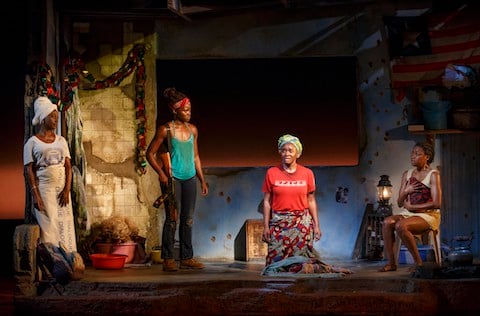 It's worth noting that Eclipsed, which premiered off-Broadway last fall at the Public Theater, arrives courtesy of a sizable number of female producers as well. Nyong'o's star power undoubtedly lent the story the legs it needed to reach a large audience. Here's hoping more like this one follow in its footsteps.
Follow Naveen Kumar on Twitter: @Mr_NaveenKumar (photos: joan marcus)