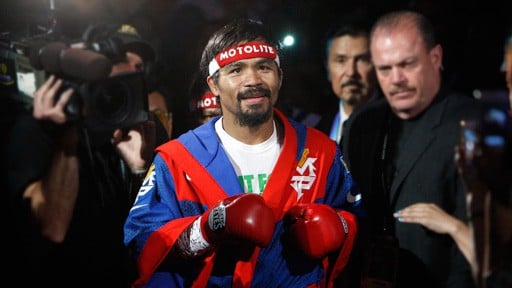 HBO yesterday came out strongly against boxer Manny Pacquiao, whose remarks in recent weeks that gays are "worse than animals" and deserve death (according to Bible verses Pacquiao has been quoting) were bad enough to cause his sponsor Nike to drop him.
HBO released a statement but said it would still broadcast Pacquiao's PPV fight:
"Next month Manny Pacquiao and Timothy Bradley Jr. are scheduled to meet in a Pay-Per-View bout.  We have an obligation to both fighters and, therefore, will proceed to produce and distribute that event. However, we felt it important to leave no uncertainty about our position on Mr. Pacquiao's recent comments toward the LGBTQ community.  We consider them insensitive, offensive and deplorable.  HBO has been a proud home to many LGBTQ stories and couldn't approach this event without clearly voicing our opinion."
In this case, viewers should do as Magic Johnson would do, and not watch it.
(image hbo)