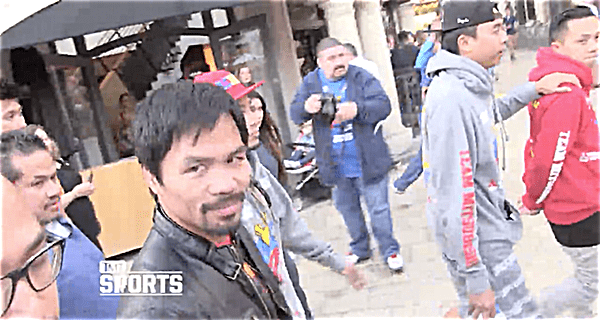 Boxer Manny Pacquiao has been banned from Los Angeles' The Grove following his most recent anti-gay comments. And it's not the first time he's been declared "not welcome" by the shopping mecca because of his hateful remarks.
Pacquiao, who is currently running for a seat in the Philippines Senate, said in a TV interview last month that gay people "are worse than animals." He then tried to walk back those remarks, saying, "I'm sorry for comparing homosexuals to animals. Please forgive me for those I've hurt."
Sports retailer Nike, who had sponsorship deals with Pacquiao, was none too pleased with the comments and cut ties with him following the incident.
Pacquiao then doubled down on his bigoted hate speech, posting a passage from the Bible (Leviticus) on Instagram that calls for gays to be put to death. Pacquiao cited the same passage of scripture back in 2012 when he condemned President Obama for supporting marriage equality. That led to Pacquiao being banned from The Grove for the first time. The Grove ultimately removed that ban because they believed he had been misquoted.
However, when officials at The Grove saw Pacquiao and his entourage show up at the venue recently not long after Pacquiao again made anti-gay comments, the ban was reinstated.
Grove honchos saw Manny on the property … and after he left, decided they don't want him to come back.
"These are statements of hatred," Grove owner Rick Caruso tells us … "A lot of people from the gay community come to The Grove and they have a right not to feel uncomfortable."
"Manny Pacquiao is no longer welcome."
Watch video of Pacquiao at The Grove recently, below.