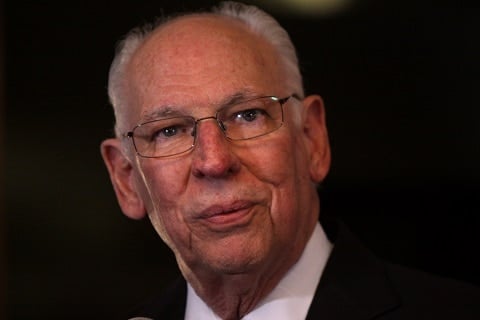 Rafael Cruz, the unhinged father of Presidential hopeful Ted Cruz, has said that the SCOTUS ruling on same-sex marriage will lead to the destruction of society.
Speaking with Breitbart News yesterday, Cruz Senior claimed that if one more "liberal justice" is added to the Supreme Court "we will lose our right to keep and bear arms. We will lose all of our religious freedom. We will see abortion-on-demand to the day of delivery. We will see the destruction of traditional marriage, and the family is the foundation of society. If the family is destroyed, society will be destroyed."
In a rare moment where Towleroad readers might find themselves agreeing with a Cruz, he added that Donald Trump as president would be a disaster because he is a phony conservative and "lies constantly."
Back in January, referring to Annise Parker, Ted's dad said it was appalling that Houston had a gay mayor.
Listen via Breitbart below.
[soundcloud url="https://api.soundcloud.com/tracks/250998375″ params="auto_play=false&hide_related=false&show_comments=true&show_user=true&show_reposts=false&visual=true" width="100%" height="450″ iframe="true" /]