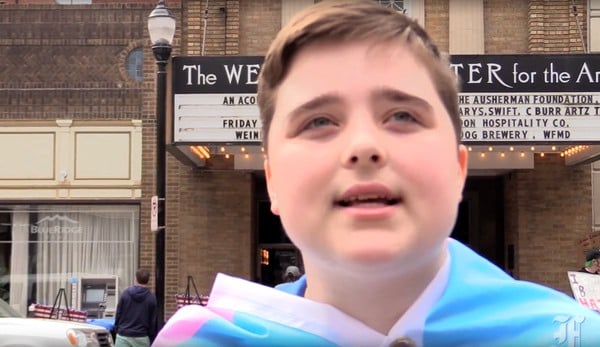 A 16-year-old boy says that he and his mother were kicked out of a Ted Cruz rally because he is transgender.
Maryland teen James Van Kuilenburg said he had attended the rally "to represent the LGBT youth that are hurt by [Cruz's] propaganda and rhetoric."
Cruz recently ramped up his anti-LGBT rhetoric in an attempt to capitalize on Donald Trump's remarks that he opposes North Carolina's anti-LGBT "bathroom bill" HB 2. Over the weekend, the Cruz compared transgender to people to Donald Trump cross-dressing as Hillary Clinton. Back in January, taking a break from chatting with God, he said allowing an Iowa trans girl to use a faculty restroom amounts to "inflicting him" on teachers, but is better than "sticking him in the shower with the teenage girls."
According to Salon, last Thursday, Van Kuilenburg stood in front of the Weinberg Center for the Arts where Cruz was holding his rally. Wearing a National Center for Transgender Equality t-shirt, the teen also carried a sign and a trans pride flag. He says that when he was seated in the theater, before Cruz appeared on stage "I was tapped on the shoulder…when I turned, there was a Campaign Staff member, asking me to leave."
Watch Van Kuilenburg explain what happened below:
Van Kuilenburg later told the Fredrick News-Post, "the fact that I'm thrown out based on my identity is ridiculous."
He has since posted an audio recording of the moment he was kicked out of the rally on Facebook, writing:
"So I have not posted this until now because I wasn't sure if it was legal in Maryland. This is a portion of the audio of me, James van Kuilenburg, being kicked out of the Ted Cruz rally on April 21st. I am a transgender teen who was forcibly removed without reason, before Ted Cruz even took the stage. I attended the event with the sole reason to learn about the Cruz platform. I only began recording when I realized they were not going to give us a reason for kicking us out. They were not interested in listening to what we had to say."
There were two men speaking to us, one in a suit and another in a police uniform. They were very rude and offered no explanation. Multiple times they laid their hands on me unnecessarily, forcing me to walk out of the event.
Watch: