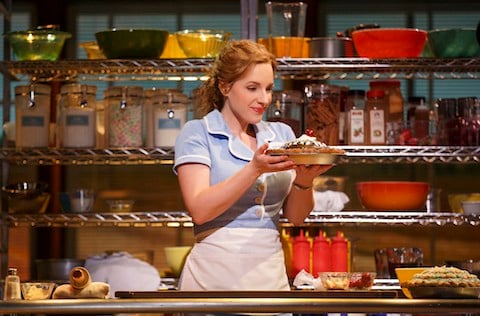 It starts with the mouth-watering scent of fresh-baked pie as you walk through the door, and settles in with the first notes of Sara Bareilles' warm-hearted, soulful score — the feeling of being invited in to stay a while and indulge in some delights to the senses. Such pleasures abound in Waitress, a winning new musical that opened at the Brooks Atkinson Theatre last night. Based on Adrienne Shelly's 2007 film, it features one of the best original pop scores to reach Broadway in years and another knockout performance from Tony winner Jesse Mueller, who continues to prove herself one of the most dynamic and emotionally grounded leading actresses on Broadway.
Mueller plays Jenna, a bang-up pie-baker and small-town waitress trapped in a lousy marriage with a possessive boob (Nick Cordero). She finds support and love in her sisterly bonds with two coworkers: sassy, no-bullshit Becky (Keala Settle) and shy yet spazzy Dawn (Kimiko Glenn of Orange Is the New Black). The three are together in the ladies' room when Jenna discovers she's pregnant, with a baby that feels like a ball and chain tying her to a miserable relationship. She decides to keep the baby and starts squirreling away cash to enter a pie-baking contest, whose prize money could spell her escape. In the meantime, she falls for her hot (and likewise married) Ob-Gyn, played by a charming Drew Gehling.
In short, her life is hot mess.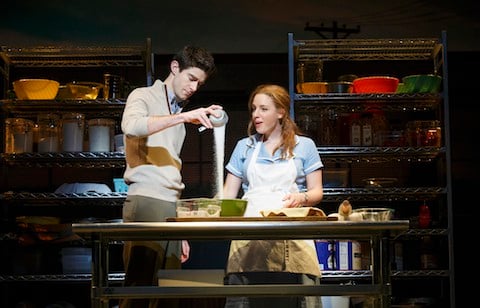 Fortunately, Jenna has a pie for every setback and twist in the road (e.g. I Don't Want Earl's Baby Pie, Betrayed by My Eggs Pie, the list goes on). Some people eat their feelings; Jenna bakes hers into elaborate desserts. You may be surprised by how many pie metaphors aptly sum up the nature of life, or how poetic they're made to sound in Bareilles skillful hands.
A singer-songwriter known for her piano-based pop and evocative lyrics, Bareilles' sensibility proves an ideal fit for the material. Her stirring, melodic songs do everything a well-crafted musical score ought to do — they create the distinct world of the show, move the story forward, and express emotional truths with a colorful clarity that only music can achieve. (Any number of her tracks might fit into a Grey's Anatomy montage, to give you a sense of the genre.) Jessie Nelson likewise lends wit and heart to the often-funny script, closely adapted from the movie with a few wise deviations.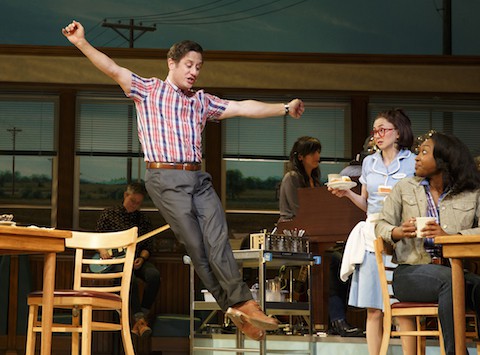 The production marks a down-to-earth turn for Tony-winning director Diane Paulus, who's recently become known for more expressive, high-concept takes (see Pippin, and less fortunately, Finding Neverland). The subtler moments of whimsy and fantasy she employs here breathe a bit of magic into the story and nicely translate the film's quirky charm for the stage. Paulus also assembles a refreshingly diverse ensemble (the uniformly svelte and whitewashed Bright Star may want to take notes if it sees a second round of casting). And the company is excellent all around, including Christopher Fitzgerald as Dawn's equally spastic romantic foil, and Dakin Matthews as the diner's curmudgeon-with-a-soft-spot owner.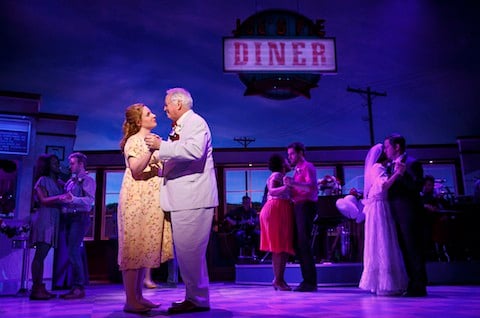 But it's Mueller who bakes her heart and soul into the show, imbuing her character with incredible depth of feeling and her indelible everywoman charm. It is equally remarkable to watch her breathe life into an ordinary woman as it was to witness her uncanny embodiment of Beautiful's Carole King.
But Waitress doesn't simply serve as a vehicle for Ms. Mueller, though we're fortunate enough that it does that, too. It's the rare example of a movie turned Broadway musical that actually elevates the story and brings out its luster (for a counterexample, head down the street to American Psycho). Now, what sort of ingredients do we think would make a good "It's a Darn Shame Hamilton Is Gonna Sweep the Tonys and Other Musicals Don't Stand a Chance Pie"?
Follow Naveen Kumar on Twitter: @Mr_NaveenKumar (photos: joan marcus)