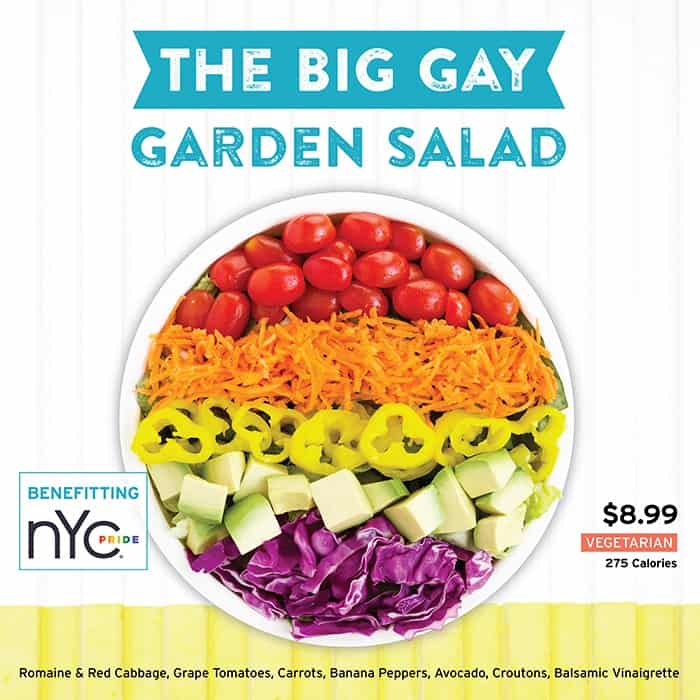 Just Salad, an organic salad chain with 28 locations, mainly in New York City, is offering a Big Gay Garden Salad starting June 1 that benefits NYC Pride.
The 275-­calorie vegetarian salad features a rainbow of ingredients including romaine, red cabbage tomatoes, avocado, carrots, banana peppers, and croutons. $1 from each salad will go to NYC Pride.
Said CEO and cofounder Nick Kenner: "From our cashiers to our choppers to our management team, the LGBT community is a big part of our company, so of course we're happy to be supporting NYC Pride."We are proud to be able to show our customers how much we support the LGBT community."
Kenner added that a team from Just Salad with about 50 Just Salad employees will be marching in the LGBT Pride parade on June 26.
Said Chris Frederick, NYC Pride Managing Director: "NYC Pride is thrilled to be a part of this exciting promotion that will allow us to raise crucial funds to help create the largest series of LGBT Pride events in the United States. With over 2.1 million expected in attendance this year, we wouldn't be able to produce events of this scale without the support of Just Salad."
Last month, NYC Pride announced that the grand marshals for this year's parade are Subhi Nahas, a Syrian refugee, Cecilia Chung, an internationally recognized leader who has been advocating for HIV/AIDS awareness and care, LGBT equality, and social justice, for more than 30 years, and Jazz Jennings, the 15-year-old honorary co-founder of the Transkids Purple Rainbow Foundation and the youngest Grand Marshal in NYC Pride history.
Headlining this year's Dance on the Pier will be Fergie, and the DJ lineup for the annual dance party includes Alain Jackinsky (Montreal), Hoxton Whores (London), Honey Soundsystem (San Francisco), and Ben Baker (New York).