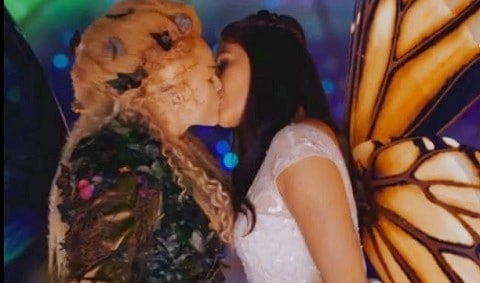 Despite fears of a backlash, viewers have responded positively to a gay kiss in Russell T. Davies' BBC adaption of William Shakespeare's A Midsummer Night's Dream. Davies is also responsible for the original version of Queer As Folk, last year's genius Cucumber / Banana / Tofu and the Doctor Who revival.
According to English tabloid The Mirror, there were concerns that Shakespeare purists would not take kindly to the new film version which features a passionate kiss between female characters Titania and Hippolyte as well as a death not in the original text. 
If ever there was a reason to hold the BBC cloes to our hearts, it was tonights production of "A Midsummer Nights Dream" Simply wondrous!

— Men About Town (@Men_About_Town) May 30, 2016
Asked what such purists would think, Davies said, "They will be perfectly happy. To be a Shakespeare purist means you're in love with imagination and drama and truth and fun and honesty."
Viewers loved the gay kiss at the end of Russell T Davies' Midsummer Night's Dream https://t.co/NhFnM9xCSZ pic.twitter.com/B0IZYcR0pw

— Metro Entertainment (@Metro_Ents) May 30, 2016
He added,
"Really only idiots might have a problem with that. That's what plays do [–] they reinvent themselves constantly, for every generation, the next generation will do a new one and this is how they are meant to be done.
"If you've got a problem, line up and kiss me instead."
He added that the changes came about because "I don't like the end of the play where frankly [Titania] is submissive to Oberon and he gets away with his tricks. It's very male/female, male/female."
One Tweeter thought Shakespeare may not be too happy.
Shakespeare may turn in his grave at this version 😨#midsummernightsdream

— Jackie Collis (@JacksC93) May 30, 2016
But he loved it…
Loved it #AMidSummerNightsDream

— Jackie Collis (@JacksC93) May 30, 2016
Of course, not everyone was best pleased.
#AMidSummerNightsDream Well that was boring! Read the book before – an insult to #Shakespeare! Shame on the #BBC for this piece of rubbish!

— Jasdip Singh (@JasdipSagu) May 31, 2016
Watch a trailer for A Midsummer Night's Dream complete with Bjork soundtrack below.
https://www.youtube.com/watch?v=TWnd4a9EMag
(Image via Twitter)