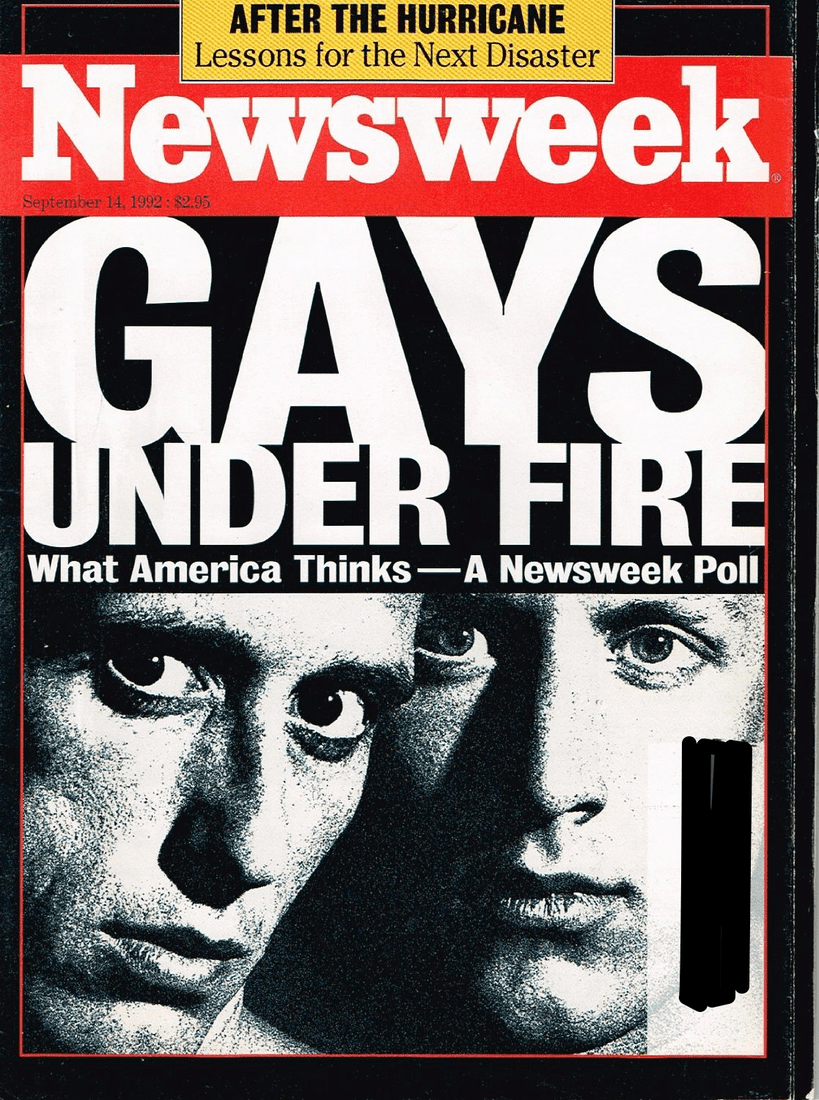 Yes yes, 'tis true. That's me and my then-partner Gary on the cover of Newsweek (September, 1992). The word for gays, was "lover" back then. Seriously. Goodness, what a dif the decades have made.
The day had seen us to Central Park, then gym before walking down 7th Avenue. The attack came out of nowhere; yelling "FAGGOTS" and swinging at us, hands like bats.
Gary and I were beaten in broad daylight, in NYC, that day. A group of five men pulled over to the side of 7th Avenue, got out of a van and then, attacked us.
Our crime: holding hands.
Gary was nearly killed.
Larry Kramer suggested I buy a gun and arm myself.
I was knocked down and out. I remember coming to, and standing up, in the crosswalk of 51st Street and 7th Ave., and looking around and not seeing Gary. My ears wouldn't work. I heard nothing. Everything moved in half-time. No sounds, just ringing, ringing, ringing. I looked out into the street, and traffic was stopped. I looked down, and there Gary was in a heap.
Blood from his head was all over the street. They had kicked him in the body and head to such a degree after he had fallen that I remember a woman in red high heels standing over him, hands to head, screaming. I didn't hear her. I remember seeing her scream but not the sound as I stumbled out towards him.
I sat down cross-legged on the asphalt, and put his head in my lap, and remember, so clearly, just the slow-motion disbelief of "WHAT IS HAPPENING HERE!? HOW HAS THIS OCCURRED?" I thought he was dead.
Gary's face was a bloody pulp. No way is he alive, I thought. I felt for a pulse and saw bubbles of blood and air coming out of his mouth finally and cough.
None of us will find joy or thrive, just more death and agony. That's how I thought…
The guys who beat us piled back in the van and headed south. A bystander called 911. The van was pulled over before entering the Lincoln Tunnel. The attackers, all but one I think were under 18, and were all apprehended. They stood trial. Was a strange, big case. All were found guilty.
The NYPD was great. And, after getting our approval, as well as the court's, of course, Dr. Marjorie Hill, Mayor Dinkins' LGBT Liaison, worked with the attackers – all young men of color, and all but one minors — to try to make something constructive out of their sentencing.
They were mandated to MONTHS of working with her in underserved communities of color, specifically in an environment that included diverse populations that would personalize who we as LGBT people are… as opposed to a full incarceration and felony conviction with the potential to ruin—or even take—their lives.
Dr. Hill, a strong, out, lesbian woman was, and is a fierce advocate for justice. She negotiated the sentencing. I was grateful for the outcome. I wonder if good came from it for them, with her, in that chapter. I've never looked up their names to see what became of them.
Larry Kramer suggested I buy a gun and arm myself. He was like an uncle to me then. I loved and respected him. Having been raised in Oregon, a gun wasn't so insane as some might think but I thought no good will come from me carrying a handgun.
…and whooooosh, I'm 50 and married to my amazing husband and it's legal, and…
I chose NO GUN. (shout out to Gay Against Guns.) Wrote the song, "Up the River" instead. (Listen below.) I was in a band, then, so not a strange response. It's a song about retribution and social justice, or revenge in a way.
Seems so so long ago just now, this moment, snapped in time. A friend asked if that was me on the Newsweek cover. I thought, YES, that is a version of me. A pre-this version. AIDS was everywhere in that very moment. Kevin W had died. Kevin C was sick and dying. Jim was dying then too. Kevin B was sick and on death's door that year. Will L, was sick sick, but wouldn't die for another decade.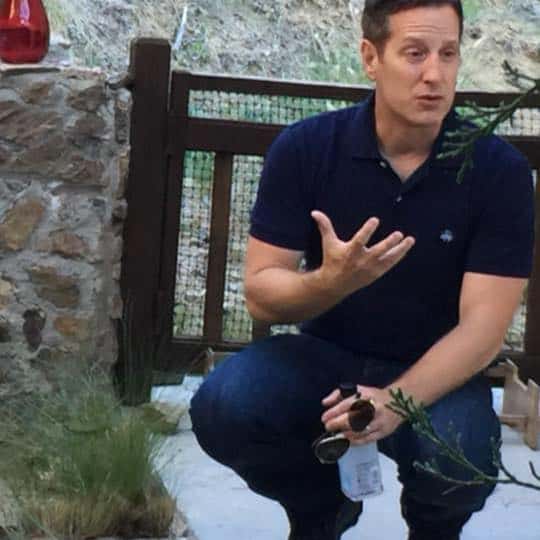 Full of fear, terror really, between family and life and AIDS and loss and well, there was just so much fear then that it was just so so so much, and too much really, and well, we weren't going to make it out alive anyway. That was an overriding thought then.
None of us will find joy or thrive, just more death and agony. That's how I thought, at my core. We weren't going to make it anyway.
Then things changed. And I don't die and, a miracle, I get better and life changes and hearts change and whooooosh, I'm 50 and married to my amazing husband and it's legal, and…hope and joy and marriage fills the space of misery and pain and despair.
Her question takes me back. Yes, that's me on the right. That was me, there on the right. #LoveShines
I found this online just now, on the HATE CRIMES MAP, that although wrong on the date, shows the attack spot:
Here's "Up The River." Michael Boyce on vocals with me
[soundcloud url="https://api.soundcloud.com/tracks/275724274″ params="auto_play=false&hide_related=false&show_comments=true&show_user=true&show_reposts=false&visual=true" width="100%" height="450″ iframe="true" /]
---
Brad Lamm is the founder of Breathe Life Healing Centers, an author and educator in the field of trauma, addiction intervention, and recovery, and is an ACT UP alumni.  Careful readers will appreciate the big changes in the world even since  2010 when it was news for Gayle King to make a radio endorsement of gay marriage after working through her nervousness about attending Lamm's marriage to Emmy and Tony Award-winning producer, Scott Sanders.
Lamm originally shared this post with his friends on Facebook and graciously is letting us share it with you as part of an ongoing series of first person posts and essays. If you've written a post or have seen one you think we should consider, please pass it along through our contact form, our Facebook page, or tweet us by clicking here and adding a link Tweet: Hey @tlrd @michael_goff, consider this link as a Towleroad First Person Post [replace this with link].
Here are earlier First Person posts worth reading:
All opinions expressed are those of the author.