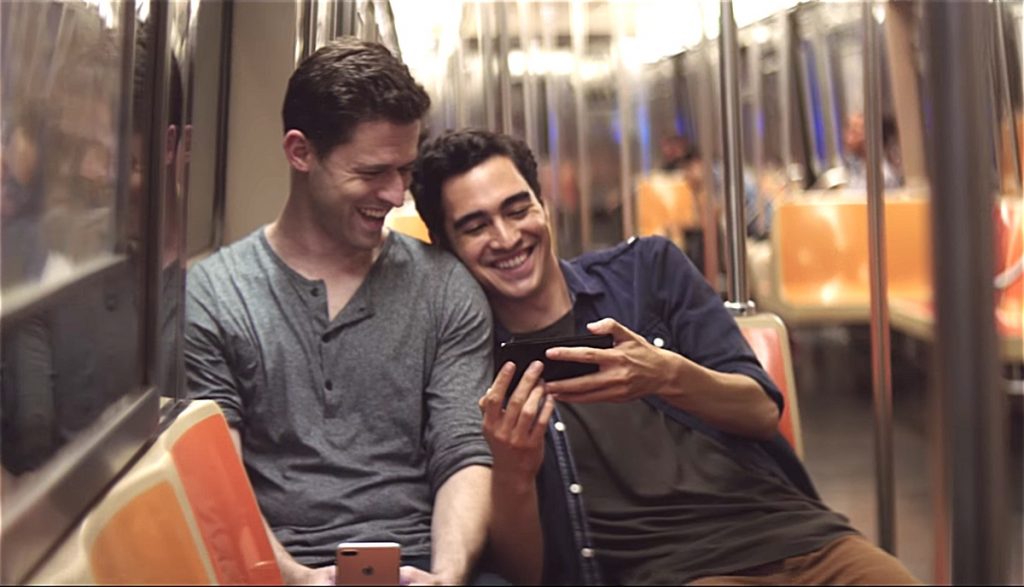 Apple's new ad for the iPhone 7 features an affectionate gay couple enjoying their new tech on the NYC subway.
Watch:
https://www.youtube.com/watch?v=Q6dsRpVyyWs
The company recently raised eyebrows by omitting a same-sex couple from its Mother's Day 'Shot on iPhone' ad in international markets.
The US version of Shot on iPhone – Mother's Day was first posted to Apple's YouTube channel on May 1. "A tribute to all mothers through the eyes of iPhone users worldwide," the ad features videos and photos from around the world showing mothers and their children.
However, a lesbian couple was cut in the French, German, Italian, Turkish and Japanese versions of the ad.
Apple's CEO Tim Cook, is gay, as you probably know, and has been lauded (and criticized in some circles) for his social activism around LGBT issues.
He recently spoke to the Washington Post about why he came out:
"I was thinking about kids. I was getting notes from kids who knew I was gay, or assumed I was, because of something they had read on the Web. And they were kids who were distraught. Some had been pushed out by their families. They thought they couldn't achieve anything. They couldn't do anything. They were seeing the national discourse around it and feeling isolated and depressed. And I just thought — I've got to do something…I thought it would minimally say you can do pretty good in this world and be gay. That it's not a limiter. It's okay to be. That it's okay to be honest about it. I figured if I could help one person, it would be worth it."
Cook also recently condemned anti-LGBT violence at the company's Worldwide Developer's Conference in the wake of the Orlando massacre:
"We offer our deepest sympathies to everyone whose lives were touched by this violence. It was [a] senseless, unconscionable act of terrorism and hate aimed at dividing and destroying. The Apple community is made up of people from all around the world, from all different backgrounds and all different points of view. We celebrate our diversity. We know that it makes us stronger and moves everyone forward."
Notably, Apple's keynote also included a live performance of "The Greatest" by Sia, a tribute to the 49 victims of the Orlando massacre. The performance, which featured a honed down cast from the 49 that took part in the video, was shown alongside Sia's original clip:
https://www.youtube.com/watch?v=S9MhqIYuev8