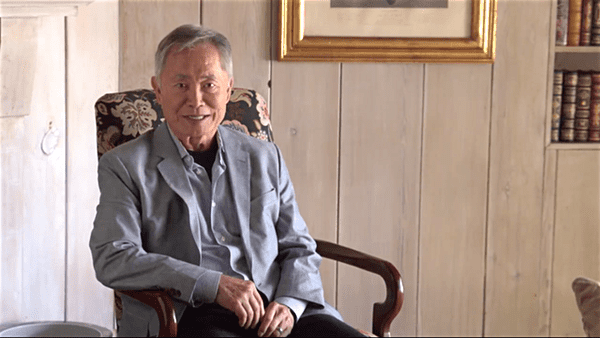 George Takei says the reveal in Star Trek Beyond that Mr Sulu is gay was "tentative" and didn't go far enough.
Takei – the original Sulu and a LGBT rights advocate – told Digital Spy:
"They talked about Sulu becoming gay, but it was such a tentative thing. Shakespeare said it: 'Full of sound and fury, signifying nothing.'
"Sulu comes back, picks up the little girl and hugs her, and then puts his arm around a guy and they walk off…not even a kiss. Just hugging the baby and arm around the guy… and it's over."
He added that Star Trek creator Gene Roddenberry would have been "really creative" had he been able to create a gay character for the show.
"He would've created a gay character who has his own history in this kind of society and explored what kind of issues he would have to deal with, and how he would've expressed himself, and how society would've dealt with him. All those potentials are there – and yet…"
In July, Takei said he was delighted that there is now a gay character in the series. However, he added that the development  is "a twisting of Gene's creation, to which he put in so much thought. I think it's really unfortunate." He later said his comments were taken out of context, insisting that while he's thrilled with the franchise's idea of inclusiveness, he would have preferred it if a new character were created instead, one "whose story could be fleshed out from scratch, rather than reinvented."
Responding to Takei's original comments, Simon Pegg, who plays Scotty in the series and co-wrote Beyond, said:
"I have huge love and respect for George Takei, his heart, courage and humour are an inspiration. However, with regards to his thoughts on our Sulu, I must respectfully disagree with him.
"He's right, it is unfortunate, it's unfortunate that the screen version of the most inclusive, tolerant universe in science fiction hasn't featured an LGBT character until now. We could have introduced a new gay character, but he or she would have been primarily defined by their sexuality, seen as the 'gay character', rather than simply for who they are, and isn't that tokenism?"
In July, it was revealed that a kiss between Sulu and his husband in Beyond was cut.