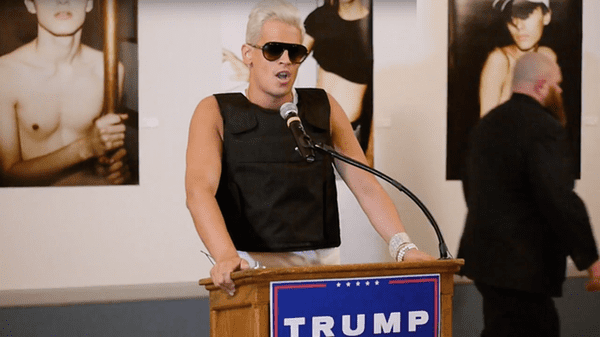 The GoFundMe crowdfunding site is enabling homocon white supremacist, Islamophobe, transphobe, fame-whore, Breitbart editor and con man Milo Yiannopoulos to spread hate at speaking events at colleges around the country, according to a report in Seattle's The Stranger:
As of January 4, GoFundMe users have crowdfunded, or are in the process of crowdfunding, 10 of Yiannopoulos's college speaking events from Minnesota to Washington State. Together, these campaigns have raised a total of $13,820 for Yiannopoulos's campus security costs and venue deposits.
San Diego-based GoFundMe, which takes a five percent cut from its crowdfunding campaigns, has a user service policy that explicitly prohibits "the promotion of hate, violence, harassment, discrimination, terrorism, or intolerance of any kind relating to race, ethnicity, national origin, religious affiliation, sexual orientation, sex, gender or gender identity, or serious disabilities or diseases." But promoting intolerance based on race, ethnicity, and gender identity is at the root of Yiannopoulos's unimaginative celebrity. In recent weeks, Yiannopoulos has ratcheted up his anti-trans rhetoric, using one of his campus tours to target a trans student because of her gender identity. At a December event at the University of Wisconsin, Milwaukee, Yiannopoulos projected that student's face onto a screen and taunted her.
The Stranger's Sydney Brownstone writes that the organizer at the University of Washington, College Republicans president Jessie Gamble, claimed that the money was going toward security for Milo, and not to promote hate, a claim that a graduate student there logically challenged:
"Why are you raising money for security costs? So you can bring somebody in who shouts hateful things? They're raising money to bring Milo Yiannopoulos to campus to engage in hate speech and promote his white supremacist agenda."