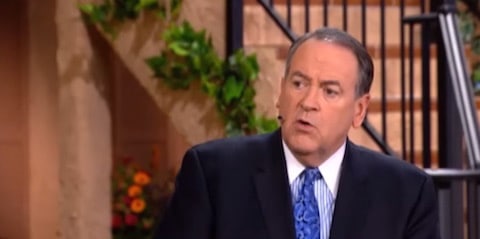 Mike Huckabee just tried to discredit Lindsey Graham with a jab suggesting he's a closeted gay man in an interview with Laura Ingraham, according to The Daily Caller.
The remarks were made with regard to Graham's criticism of Devin Nunes.
Said Huckabee to Ingraham: "I'm very disappointed in Lindsey. I sometimes wonder what uniform he puts on each morning when goes out to the field to play, and I'm not just talking about the partisan uniform."
[soundcloud url="https://api.soundcloud.com/tracks/315052053″ params="auto_play=false&hide_related=false&show_comments=true&show_user=true&show_reposts=false&visual=true" width="100%" height="450″ iframe="true" /]
Added Huckabee: "I think to bring that kind of criticism and to call the chairman of the House Intel Committee — who is a person of integrity — to call him Inspector Clouseau, to use those kind of terms basically to diminish him, it's very unfortunate. It's demeaning."
It's not like Graham hasn't seen these kinds of remarks in the past.
Graham joked about gay rumors in a 2010 New York Times profile: 'Like maybe I'm having a clandestine affair with Ricky Martin. I know it's really gonna upset a lot of gay men — I'm sure hundreds of 'em are gonna be jumping off the Golden Gate Bridge — but I ain't available. I ain't gay. Sorry.'