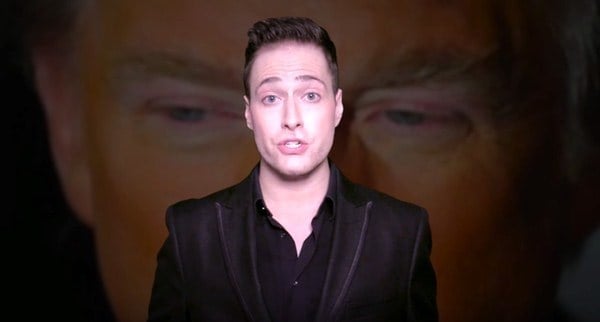 If you're a regular reader of this site, you're no doubt already familiar with the work of Randy Rainbow. The online superstar has perfected the art of parody, cranking out volumes of sharp political satire delivered with a pitch-perfect Broadway bent.
Rainbow (yes, that is his real name) has been producing videos for years, but his work attracted an even larger audience as our political reality became more and more bizarre. His unique blend of musical theatre, interviews and green-screen technology has created epic singing confrontations with Ivanka, Kellyanne Conway and POTUS himself. It's a fantasy world where injustice and rage are transformed into singing and dancing. It's humor as resistance. It's weaponized razzamatazz.
There's certainly no shortage of inspiration in the headlines, but Rainbow is more than up to the challenge. In addition to his online videos, he's appearing in commercials, planning live shows in New England this summer and even working on a potential television project. We spoke with Rainbow about starring in a new ad for Orbitz, his creative process and whom he would cast in Trump: The Musical. 
Check out what he had to say in our interview, below.
I just saw the Orbitz ad, and it's so great.
Thank you!
What was it like working with Bianca, Miss Richfield 1981 and Margaret Cho?
It was so fun. I have actually never even been to LA before, so this is my first trip to LA, and it was to star in a commercial. It was like a real thing with a whole big set, and we had all those back-up dancers. It was like a real production. It was thrilling. And the fact that I got to play with Bianca, who I know and I used to have shows with at Therapy. We go way back. Miss Richfield is also an old friend, and Margaret Cho I'm a huge fan of. The whole thing was just a blast.
It really feels like your voice coming through. How involved were you in the creative process?
They actually kind of built it around me. Their inspiration was, if you saw that Music Man parody that I did, they kind of used that as inspiration and got someone to write a song that sounded a little bit like that song ["Ya Got Trouble"] from The Music Man. That was kind of the impetus for the whole thing. I wrote a couple of the lyrics that you hear, probably most of them, actually, that made it in. It was me and the guy that composed the song. He wrote half, and I wrote half. It was actually Sean Hayes' production company, Hazy Mills. They're the guys that did it. It was fun to work with them too.
What's your process like? Because you turn these videos around pretty quickly considering you're working off the news cycle.
If it's really a topical thing that's very timely, then I'll pull an all-nighter sometimes. If it's an interview or something I'm spoofing, I'll study the source material, just watch it over a million times, and write around that or write my part into the interview or I'll write the parody. That usually takes a couple of hours. Then I film, which takes another two or three hours, and then the editing takes about five million hours. That's the time intensive part. You have to be quick nowadays, so I try to turn everything around in a day or two.
And it's just you?
It's just me in my studio apartment with a green screen taking up my entire living room. It's pretty absurd if you saw it in person. I'm hoping I'm moving into some fancier territory where I can have a bigger space and maybe some help.
It must be hard too to not have a partner or collaborator to bounce ideas off of.
Yeah. When I first have the idea, if I say, 'OK, that's a funny idea,' I try to stick with the original feeling I had about that idea all through the night or however long I'm working on it. Because by the end of it, I've been working for eight hours, I'm staring at my own face. By the wee hours of the morning, it's all just shapes and colors and sounds, I don't know what the eff is going on. I'm like 'This is not funny. No one's going to find this funny. What the hell did I just do?' You have to just trust your original instinct. It is challenging not to have anybody to bounce things off of, so I've had to really learn to trust my own instincts.
Of all the videos you've done, do you have a personal favorite?
Well, they're all so good. *Laughs* "Braggadocious" is still the biggest one with over 30 million views, so that has a special place in my heart. It opened a lot of doors and got me a lot of stuff. I like that one. All the musical stuff is my favorite.
You've been doing this for many years. Are there videos deep in the archive that people who may be new to your work should go back and watch?
There are probably a lot that people haven't seen, but they would probably like. One that's always a surprise to newer fans is usually the Kim Davis one. Everybody knows all the political stuff. The one from 2015 when I did the "Kim Davis Cell Block Tango," that's usually a crowd pleaser that nobody knows about.
What is it about this format of mixing politics and musicals that you think is really resonating with people so much?
It's a number of things with this political stuff. I hear from people every day saying nice things about how it's cathartic for them. In a weird way, it's cathartic. I think there's a lot of levels to it, because I'm a gay guy, and I'm someone who might be marginalized by these giants sort of. So to watch me sort of insert myself and be a smartass to them, I think, is not only humorous but cathartic for people. I think with the musical stuff, people make fun of show queens like me and people who like musicals, but — I hate to say cathartic 9,000 times, but I haven't eaten dinner and I have no internal thesaurus right now — musicals are very healing. I think people are starving for that right now, for something to make them feel better about all the nonsense and chaos going on.
Totally. I also kind of think musicals are sort of a heightened art form, and we're living in such a heightened time in so many ways.
Yeah, it's almost like where do we go from this absurdity other than starting to sing about it?
It's like that saying, when you can't speak anymore, you sing.
Yes! That's a musical theatre thing, when we can't speak anymore, we sing.
Have you received any reactions to your videos that have surprised you?
I don't know how many minds I've changed, but I hear every day from self-described right-wing, straight, conservative people who say 'We don't have the same views, but I enjoyed your work' or 'you made me laugh' or whatever. That's always nice. That's one of the things that really motivates me to keep doing this, because what we need now more than ever is some sort of common ground, and comedy is definitely a great common ground. People come together and laugh, and we need that now. I have 600,000 likes on my Facebook page, and I would say a good chunk of them are not people who would probably be my friend ordinarily.
Where would you like to see this work lead you?
Ultimately, I'd like to expand what I'm doing and bring it to television. I'm working actually with a few production companies who are interested in helping me do that. That's kind of in the works now.
Are you thinking it would be in a similar vein to the work you're doing now?
I would like to certainly continue with some political stuff. I would like something to be like an umbrella under which I could make fun of everything going on, be it politics, social media, everything, and kind of bring my spin to it. Throw some musical comedy in there and be able to deliver my views on things while entertaining the troops, so to speak, just being entertainment for everybody. That's what I'm hoping. That's the other thing I hear from people all the time. I get videos of people's nine-year-olds at the kitchen table watching my videos and singing along to them, and I hear 'My 80-year-old grandmother loved you,' so there is something of a family element to what I do. I'd like to bring that to more people, again, at a time when people need entertainment.
Let's say they're making Trump: The Musical, how would you cast it?
Let's do Kellyanne Conway first. I think Kristin Chenoweth would be a good Kellyanne Conway, and she'd be hilarious. Melania is easy. That would be Tony Award-winner Laura Benanti, who did it so brilliantly on The Late Show. Who would be Trump? I'm trying to think of like obnoxious … if we want to go big, I guess we'd go with Alec Baldwin, but I don't know if he'd do a musical.
I think the role of Trump going to someone who's not qualified is kind of fitting, isn't it?
Exactly.
Is there a Hillary in there? This is your story, this is your book.
If it's a few years from now, maybe we can give that to Sutton Foster. I think she'll have aged into the Hillary role.
I could see her as like a sexy Hillary.
She's a chameleon, she could do it. She could probably do Trump if we wanted her to. Who would be Pence? Hmmm … let's have a black Pence and do Norm Lewis.
Along these same lines, looking into your crystal ball, describe what you think the eleven o'clock number would be in Trump: The Musical. Where are we heading?
In Trump: The Musical, the eleven o'clock number will be bleak. It will be sung by him, and, if it were something already written, it would be like "Stars" from Les Mis right before he jumps off the bridge, something like that. I just see him jumping off a bridge. I would just like him to jump off a bridge, whatever it is.
[Minutes later, Randy texted to say, "Better 11 o'clock number: Trump and Pence duetting 'I Will Never Leave You' from Side Show."]
This interview has been edited and condensed.